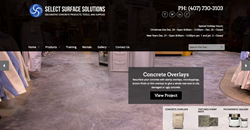 "Big, bold, vibrant pictures that accurately depict our products in action. They inform and educate our audience." Christi Tamayo
Orlando, FL (PRWEB) December 11, 2014
Capitalizing on enhanced Internet connectivity technology and emerging trends in website design, Select Surface Solutions has today announced the debut of the company's newly redesigned website. The new site offers a dramatic look at the company's offerings, and the results installers can expect to achieve with the company's products.
"The changes in what's possible with technology have enabled us to remake our website into something better able to serve our installers," stated Christi Tamayo, of the company. "Big, bold, vibrant pictures that accurately depict our decorative concrete products in action, as well as the finished results of the many projects utilizing our products really do a lot to inform and educate our audience."
The new website design features large, high-quality images that offer a significant amount of information beyond what's visible in the picture itself. The sliding header section alone provides important details, including an image of the job, a link to view the project's details, a brief explanation of what the material does, and the components utilized in the project. A new gallery feature offers stunning visuals of projects broken down by type, including stamped concrete, stained concrete, thin cementitious overlays, precast concrete, vertical coatings and concrete restoration projects.
Additionally, the redesigned website offers other benefits, including news and updates right on the homepage, direct access to in-depth information about Select Surface Solutions on the same page, and an interactive map feature that allows visitors to plug in their location and get directions to the company's headquarters.
"In the end, the new website provides significantly better information to our customers and potential students by offering both visual and text-based content," added Tamayo. "By embracing new web technology and design standards, we're able to continue leading and innovating, while providing a better experience."
To learn more about Select Surface Solutions, the products offered, or the company's training programs, visit http://www.SelectSurfaceSoln.com.
About Select Surface Solutions: Select Surface Solution is Orlando, Florida's premier choice for precast concrete, decorative and restoration materials. The company also trains, evaluates and certifies decorative concrete professionals, and connects homeowners with trustworthy contractors capable of getting any job done on time and on budget.