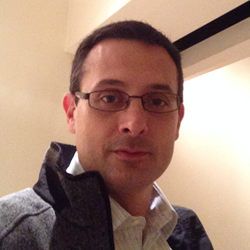 Marco is a seasoned life science professional with a unique combination of industry knowledge spanning regulatory affairs, pharmacology and biopharmaceuticals
Geneva, Switzerland (PRWEB) October 14, 2014
Selexis SA, a serial innovation company with proven technologies for biologic drug discovery and mammalian cell line development, has promoted director of European business development, Marco Bocci, PhD, PharmD, to Vice President, European Licensing and Business Development. Bocci will lead SUREtechnology Platform™ and SURE CHO-Mplus Libraries™ licensing and business development efforts for European customers.
"Marco is a seasoned life science professional with a unique combination of industry knowledge spanning regulatory affairs, pharmacology and biopharmaceuticals," said Igor Fisch, PhD, CEO and Chairman. "At Selexis, Marco has proven his ability to understand our customer's needs and challenges. I have no doubt he will be very successful in his new role as we continue our mission to transform how the biopharmaceutical industry discovers and commercialize biologic therapeutics."
The former Quintiles executive joined the Selexis leadership team in 2013 as the European director of sales and business development. Dr. Bocci brings a proven track record in business development, sales and clinical development. With over 15 years of experience in life sciences, Dr. Bocci has extensive international business, product development and regulatory knowledge gained within the biotechnology and clinical research industries. Prior to joining Selexis, he was with Quintiles Outcome as Business Development Director where he focused on increasing European market penetration and building new customer relationships.
About Selexis SA
Headquartered in Geneva, Switzerland, Selexis SA is a global life science company with innovative technologies for biologic drug discovery, mammalian cell line development and scale-up to manufacturing of recombinant therapeutic proteins. With the Company's SUREtechnology Platform™ biopharmaceutical companies can significantly reduce the time, effort, and costs associated with developing high-performance mammalian cell lines for the production of monoclonal antibodies (MAbs) and other recombinant proteins including difficult-to-express proteins such as plasma proteins, GPCRs and non-natural proteins such as fusion proteins. Selexis generated cell lines are being used in a variety of programs from drug discovery to late-stage clinical trials.
FOR MORE INFORMATION