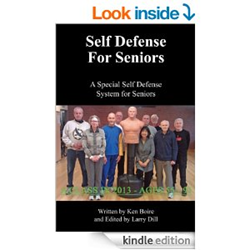 'Self defense classes for senior citizens are rare in most communities.' Boire explains, 'so it is important that the older population have access to tools to give the senior citizen protection from everyday potential dangers.'
Portland, Oregon (PRWEB) February 26, 2014
What do musical greats Jimi Hendrix, Quincy Jones, Dave Lewis, Macklemore, and Earnestine Anderson, have in common with martial arts legend the late Bruce Lee, entertainment mogul Roger Forbes, and Beaverton, Oregon, writer Ken Boire? The answer is they all attended Seattle's Garfield High School.
Growing up in Seattle's inner city during a time when Garfield was commonly called "the ghetto school," Boire's background made him well aware that crime can victimize people of any age. Seniors are especially vulnerable. The author of two novels, Boire is returning with his new nonfiction book, Self Defense for Seniors.
Now age 75, his body reminds him daily that youth carried a resilience and carefree attitude that started to decay long ago. Boire realizes that he and other senior citizens are now slower, less flexible, weaker, and more easily tired.
His new book introduces self defense techniques that seniors can actually utilize. Most self defense techniques taught today are based on being able to execute athletic and acrobatic moves lightning fast. Self Defense for Seniors, capitalizes on moves that seniors can do effectively. The techniques are simple, quick, and effective, plus they require no special strength or flexibility and can be performed by practically any senior.
"Self defense classes for senior citizens are rare in most communities." Boire explains, "So it is important that the older population have access to tools to give the senior citizen protection from everyday potential dangers. Attacks on seniors are growing in some areas, especially with the growth of youth gangs preying upon them with activities such as the 'knockout game,' where youths slug unsuspecting seniors, attempting to knock them unconscious. Basic senior citizen self defense techniques can help minimize the damage from attempts of violence against seniors. This book provides some fundamental information that can help minimize the damage of attacks on seniors in public and private places."
Boire still maintains ties with old classmates. They are proud that Garfield High School still has a diverse student body and continues to enjoy a traditional dominance is sports. However, these days it has shed the reputation as "Seattle's ghetto school" and is now a magnet school for highly gifted students.
Regular martial arts classes abound in all communities, but they assume a level of agility, balance, strength, and stamina that evaporated from most people long before senior status was reached. This book bridges the age gap. It introduces a self defense technique that gives seniors an edge. Two other books will follow Self Defense for Seniors: Self Defense for Single Seniors, and Self Defense for Traveling Seniors.
Self Defense for Seniors is available now and can be ordered online at: http://www.amazon.com/s/ref=nb_sb_noss_1?url=search-alias%3Daps&field-keywords=self+defense+for+seniors.
The website provides further details and preview information of its vital information for all seniors. Printed paperback copies are priced at $13.95, and the Kindle book edition is available for $4.99. Copies can be obtained from Amazon.com at the link above or through any online bookstore.