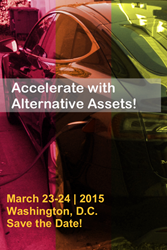 The RITA conferences enables our firm to stay on the leading edge of what is being discussed by policy makers as well as lawmakers. I won't miss it. John K Johnson, President GoldStar Trust Company
Sarasota, FL (PRWEB) February 05, 2015
Retirement Industry Trust Association (RITA) will be hosting an educational event on March 23-25th, 2015 in Washington, D.C. on the changing landscape of alternative assets held in retirement accounts. This conference brings together DC influencers from the DOL, Department of the Treasury, IRS and agency representatives. Trust companies, IRA custodians, TPAs, financial advisers, compliance officers and service providers are strongly encouraged to attend this important educational event.
As alternative assets grab a larger slice of the retirement pie, financial advisers and compliance officers must stay abreast of the changes in new rules and regulations affecting the self-directed IRA industry.
Topics to be discussed include:

Key Congressional Issues Affecting Self-Directed Retirement Plans
Breaking News from Treasury and Congress: Mark Iwry, Senior Advisor to the Secretary and Deputy Assistant Secretary, (Retirement and Health Policy) Department of the Treasury
The Latest Threats to Your Business – Cyber Security Watch
How Crowdfunding Can Expand Your Business
What's Around the Next Regulatory Curve?
Attendees will gain access to industry experts, network with colleagues and create new connections.
The RITA Conferences, especially the annual conference in Washington, D.C., have become an important part of our retirement account compliance and education. The ability to attract speakers for the conference from the Department of Labor, Department of the Treasury and the Internal Revenue Service, among other department and agencies, is invaluable. It enables our firm to stay on the leading edge of what is being discussed by policy makers as well as lawmakers. I won't miss it.
John K Johnson
President
GoldStar Trust Company
Registration Details
Attendees can learn more and register by clicking the appropriate links below and will save up to $400 with the early bird rate. Expires March 2nd.
RITA Members: click here
Non-RITA Members: click here
Hotel Venue
The Mayflower Renaissance Washington, DC Hotel
1127 Connecticut Ave NW
Washington, D.C. 20036
Ph: 1-800-228-9290
Click link below to reserve your discounted hotel room. https://aws.passkey.com/event/12500032/owner/1261/home
Reserve Today! Early Bird Rate expires Mar 2.
About Retirement Industry Trust Association
The Retirement Industry Trust Association (RITA) is a professional trade association, comprised of regulated banks, trust companies and industry-related professionals, committed to the continued growth and expansion of self-directed retirement plan administration. We have been preserving and promoting individual and group retirement plans through targeted legislative efforts as well as regulatory concerns. Our members administer a wide variety of retirement accounts. We specialize in the administration of alternative investments held in retirement accounts which include: non-publicly traded securities, promissory notes, real estate, precious metals, LLCs, tax liens, partnerships as well as publicly traded securities. Our members are passionate and dedicated professionals who seek to achieve the highest ethical standards and adherence to industry best practices.