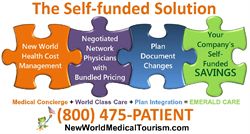 Now with New World's EMERALD CARE, all companies can enjoy negotiated price transparency and world class care without spending internal resources like the pioneers of the concept, Walmart, Lowe's and Pepsico, have done.
Long Island, New York (PRWEB) August 12, 2014
As companies are scrambling to review their options in light of the Affordable Care Act (ACA), New World Medical Tourism (New World) announces a one-stop solution for Self-Funded Medical Cost Containment called EMERALD CARE. With this offering, New World has negotiated transparent pricing with world class physicians and hospitals within the United States as well as select destinations outside the country that are Joint Commission International accredited. In addition, Emerald Care handles all concierge activities to easily accommodate the employee to and from the location of care. This offering gives self-insured companies an opportunity to have a single, easy-to budget price for each medical, dental, wellness, cancer or addiction care package anticipated in final quarter 2014 and throughout 2015. This price transparency model is currently being used by large companies to not only budget based on actual procedures experienced in the past, but also to save millions of dollars in all areas of their healthcare and worker's compensation costs. Emerald Care brings this powerful model to all companies allowing them to enjoy their own Corporate Health Network. By doing so, companies can often save 50-60% off average U.S. healthcare prices.
When asked what separates New World from other medical tourism outfits, President Cathy Nenninger, an 18-year health care management veteran responded, "we are not travel agents trying to break into the healthcare arena; we are healthcare experts providing a full scale of service including our transparent pricing model and our medical concierge and patient navigator program which ensures that your company and employees receive top notch care with world class physicians and facilities. We also ensure that HIPAA patient privacy guidelines are strictly followed, and that the employees are treated like royalty from door-to-door, all within one, fixed affordable price." New World first negotiates with each healthcare facility, domestic or foreign, for a bundled price for every procedure. Then, New World analyzes all additional components that must be considered including travel, physical therapy, nursing visits, recovery, and any other costs involved to arrive at an "all-inclusive" final price. Now, using Emerald Care, small, medium and large sized companies can create their own corporate health network without spending internal resources like the pioneers of the concept, Walmart, Lowe's and Pepsico, have done.
Ms. Nenninger adds, "In addition to our comprehensive healthcare network and a quality outcome-focused program, New World has integrated partner vendors who assist with converting your company to self-funded status or make the proper changes in your plan document by adding wellness components and procedures, as desired. It truly is one-stop for everything you need with no up-front costs." The cost of the program is included in each of the procedures you select to achieve maximum cost savings. Emerald Care highlights transparency in healthcare pricing that is demanded by today's marketplace.
New World Medical Tourism (New World), distinctly run by seasoned healthcare and insurance professionals, caters to the self-funded company, municipality or union, with its one-cost all-inclusive approach to the full array of medical procedures and surgeries, substance addiction, behavioral health, cancer care, and corporate in vitro fertilization benefits, often saving thousands of dollars per patient as compared to employees seeking care in their own backyards. "Medical Tourism," the process of traveling from one location to another typically by air, comes as an alternative to the high out-of-pocket costs facing Americans today. Patients can call the Patient Hotline Toll-free at 1-800-475-PATIENT (7284) and select option 1. Companies, Municipalities and Unions will receive a comprehensive savings analysis specific to the company and demographics and determine the desired level of the Emerald Care program which promotes excellence in the entire employee experience. Reach the executive team directly at (800) 475-7284 press option #1.