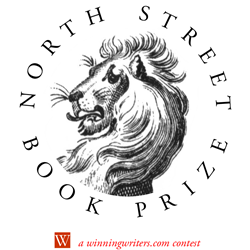 It's easier than ever to self-publish a book, but it's hard to stand out.
Northampton, MA (PRWEB) January 15, 2015
Winning Writers is pleased to announce today's launch of its first annual North Street Book Prize for self-published books. Three top winners will each receive $1,500, a credit towards the high-quality publishing services at BookBaby, free advertising in our email newsletter, and expert marketing advice from Carolyn Howard-Johnson, author of The Frugal Book Promoter.
It's easier than ever to self-publish a book, but it's hard to stand out. Many writers seek guidance on which services are worthwhile, and which vendors are trustworthy. Winning Writers has been advising the literary community on the best resources and contests since 2001. Over 50,000 newsletter subscribers and 38,000 Twitter followers rely on the information we provide. The North Street Book Prize is our latest initiative to help writers thrive in a competitive and rapidly evolving landscape.
The contest features three categories: Mainstream/Literary Fiction, Genre Fiction, and Creative Nonfiction. Entries may contain up to 150,000 words each. Submit online or by mail. The submission fee is $50 per entry. Entries are due by June 30, 2015. Winning Writers editor Jendi Reiter will judge, assisted by Ellen LaFleche. The complete guidelines are available at winningwriters.com/north.
The top winner in each category will receive $1,500 cash, a marketing analysis and one-hour phone consultation with Carolyn Howard-Johnson, a $300 credit at BookBaby, and 3 free ads in the Winning Writers newsletter (a $450 value). Two honorable mentions in each category will receive $250 each. $6,000 in cash prizes will be awarded in all. Winning Writers will publish online excerpts (1,000-6,000 words) from all entries that win a prize, along with critiques from the judges.
All contestants will receive an electronic copy of The Frugal Book Promoter by Carolyn Howard-Johnson, a $9.95 value, plus 6 free guides to successful publishing from BookBaby.
About Our Contest Co-Sponsors
Since 2011, BookBaby has made self-publishing easy for writers: from cover design, book printing, eBook conversions, distribution, website creation, and more. BookBaby provides the largest eBook distribution network, including Amazon, Apple, Kobo, Barnes & Noble, and many other popular retailers in over 170 countries around the globe.
Carolyn Howard-Johnson is an award-winning author of fiction, poetry, and nonfiction. Her HowToDoItFrugally series of books has helped writers and retailers worldwide. The Frugal Book Promoter, now in its second edition, provides no-nonsense basics to build a knock-'em-dead media kit and a robust mailing list. It includes dozens of ideas for promotions that have been proven in multiple book campaigns.
About Winning Writers
Winning Writers was founded in 2001 to provide expert literary contest information and resources to the public. We sponsor the North Street Book Prize, the Wergle Flomp Humor Poetry Contest (no fee), the Tom Howard/John H. Reid Fiction & Essay Contest, and the Tom Howard/Margaret Reid Poetry Contest. Learn more at WinningWriters.com and join us on Twitter at @winningwriters.