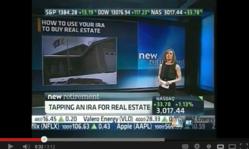 The best investment on earth is earth
Palm Beach, Florida (PRWEB) December 31, 2012
According to a recent article published by CNBC entitled "Buy Foreclosures with Your IRA", many investors are beginning to take advantage of the downturn in the market by investing in foreclosures through their self-directed IRA or 401K. With over $4 trillion dollars locked in retirement plans consisting primarily of stocks and bonds, today's distressed real estate market provides a rare opportunity to diversify portfolios that are heavily weighted with stocks.
As the legendary investor Louis Glickman once said, "The best investment on earth is earth."
It's a painless process to transfer an IRA from the bank or brokerage firm to a self- directed IRA administrator such as NuView IRA. With all of the uncertainty in the stock market, now more than ever is the time to learn how to invest in distressed real estate. Kevin Dickenson, a Palm Beach real estate agent, suggests buying income producing rental properties that return 7% to 10%, or damaged properties to fix and flip.
Self-directed IRAs offer significant tax advantages that have made many millionaire investors. The greatest benefit is that IRA investors pay no capital gains tax when the property is sold by the IRA. In addition, because the profit from the sale is deposited back into the IRA with no tax on gain or growth, the investor enjoys the power of compound interest to invest in the next real estate deal. Although IRS 1031 exchanges can be used to fund partial IRA investments in real estate, self-directed IRAs do not have the same limitations and holding periods, therefore, are much more flexible.
CNBC VIDEO – BUY FORECLOSURES IN YOUR IRA
"The first step in purchasing real estate is to retain a trusted Realtor who is knowledgeable on the subject and knows how to analyze investment properties," said Dickenson. Purchasing real estate with your IRA is remarkably similar to conventional means, but IRS regulations must be observed. As with any investing, it's always appropriate to obtain expert advice from tax and legal advisors. Beyond that, the best solution to avoid problems with the IRS is to become an educated investor by reading or attending a workshop or seminars on buying real estate in an IRA offered by the self-directed IRA Administrator.
"Newbie real estate investors need to understand cap rates, return on equity, gross rent multipliers, net operating income and all the other variables necessary to analyze real estate", said Dickenson. "I've compared dozens of Palm Beach foreclosures for investors, and it's not difficult to find rental properties with a 7 to 10% cap rate," said Dickenson. A real estate investment calculator is the key tool because it distills down all the variables and makes comparing properties a breeze. If you purchase at the right price and in a good location, the property may have significant appreciation when it comes time to sell.
Download Kevin Dickenson's real estate investment calculator here.
"I recently sold a two bedroom condo in a good location to an investor for $51,000 cash", said Dickenson. The monthly rent is $800, the annual condo association dues are $2,700 and annual property taxes are $800. At 90% occupancy, the calculator shows a 9.1% cap rate and is higher than a lot of stock portfolio returns. "The future appreciation of the property is the wild card, but South Florida home values experienced a significant increase in 2012, so I think it's safe to say the bottom is behind us," said Dickenson.
Please visit http://www.KevinDickenson.com to view a list of Florida bank owned homes and foreclosures. Mr. Dickenson can also be reached by calling (561) 262-8243.
Kevin Dickenson and Prudential Florida Realty are not affiliated or compensated in any way by NuView IRA, Inc. Please perform your own due diligence prior to making any investment decisions.