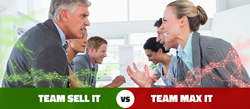 If you fall in love with the results, the effort is insurmountable. If you first fall in love with the effort, the results will come and you'll enjoy the journey.
LAS VEGAS (PRWEB) March 01, 2019
Josh Fox From Bottom Line Concepts has joined Team Max It
One of the biggest problems business's face is they have out of control expenses. Merchant fees, utilities, property tax, leases, logistics, packaging, telephone, IT, vehicles, insurance, HR, delivery, packaging, tax, and other expenses bury businesses with lost profit and time. Without the negotiating power, understanding and knowledge and experience, most businesses simply try reducing expenses by comparing costs at the rep or salesperson level and get nowhere.
Josh Fox has been working with companies successfully for over ten years and negotiating millions in reduced expenses allowing businesses to better allocate those savings to growth and profits.
Now, Bottom Line Concepts will be on TEAM MAX IT to reduce the business owners' expense and hopefully getting the business to chose to MAX IT and continue to run their business.
http://www.bottomlinesavings.com
The show, SELL IT OR MAX IT
The new show focuses on business owners in America. Now, more than ever, business owners are facing one of the hardest times in history, more tax, more government oversight, rising minimum wages, international competition, and technology overload. The business owner is required to be an expert in legal, tax, HR, marketing, sales, distribution logistics, and technology and is now working more hours than ever before.
The show will be a cross between "The Profit" and "Love it or List It", with the positive personality of "Fixer Upper".
TEAM MAX IT will be made of up business experts and will remodel the business for better profits and growth while the TEAM SELL IT will do an initial valuation of the company and will bring potential buyers to bid on the company. The seller will then have to decide whether to continue to run the company under a new and improved structure or to sell it and sail off into the sunset. The show will be providing up to $50,000 in business benefits to the business owner.
When: Filming April 2019
Where: Las Vegas, NV
Casting Businesses: February 12th - March 29th. Final Selection of business, April 2nd
Created By: Ken Himmler
Hosted by Ken Himmler
Exec Producer: Samantha Steele
Exec Producer Email: s(dot)steele(at)bengalllc(dot)com
Press- Contact Phone Number 702-996-7587
Casting Website: http://www.sellitormaxit.com
Producers Notes: Members of the media are invited to interview the show creators, show contestants and be present on set during filming. Please contact Exec Producer for more details