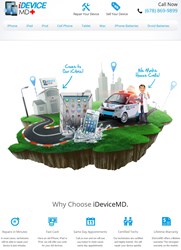 The amount a consumer can sell their old iPhone for depends on the model and condition of the iPhone but can easily be $300 or more.Dru Pio - iDeviceMD President
Atlanta, GA (PRWEB) September 26, 2013
On September 20, 2013, Apple released its much-awaited iPhone 5S and 5C models. The release of the new iPhone sent consumers scrambling to upgrade their iPhone 4, 4S and 5 models to one of the newer versions and created a whole industry that is ready to buy old iPhones and refurbish used iPhones. Used iPhones can be sold overseas by resellers or recycled and used to fund charities.
The overseas market gives tremendous value to used iPhones sitting around in houses and offices all over the country. As a result, companies like Atlanta-based iDeviceMD are offering attractive that allow consumers to quickly and easily turn their old cell phones into cash. According to Dru Pio, founder of iDeviceMD "The amount a consumer can sell their old iPhone for depends on the model and condition of the iPhone but can easily be $300 or more. iDeviceMD provides consumers with a quick and easy way to get cash for their used cell phones as opposed to online companies like Amazon where you have to mail your phone in, wait for it to be analyzed and then wait for your Amazon credit."
Pio's company also repairs iPhone screens, allowing consumers to net out three times as much as they would by trading in a phone with a cracked screen or other damage. For instance, AT&T offers roughly $200 for a used iPhone 4S on trade-in, however, if the screen is cracked or there is other damage, they offer only $7. According to Pio, "The average repair for a cracked screen runs about $59-$69 at iDevice MD. Therefore, by taking the phone into iDeviceMD for repair prior to trading it in to AT&T for an upgrade, consumers can significantly increase the phone's value."
Today's consumers crave the latest technology, and once new technology becomes available, most are no longer happy with their older, outdated models. This is evidenced by the overwhelming response to the recent release of the iPhone 5S and 5C models. In a press released dated September 23, 2013, Apple® announced that it had sold over nine million iPhone 5S and iPhone 5C models, just three days after the launch on September 20th. This is a huge increase over past new releases. In the same press release, Apple® reported that the demand for the iPhone 5S has exceeded the initial supply. As a result, many online orders are scheduled to be shipped in the coming weeks.
iDeviceMD founder, Dru Pio, advises consumers not to wait to trade in their used iPhones for cash. He states "although old iPhones hold their worth better than any other smartphone on the market, as the market becomes flooded with more and more used iPhones, their value will naturally decrease".
About iDeviceMD:
iDeviceMD is an iPhone and iPad repair company with locations throughout the United States including locations in the greater Atlanta metropolitan area. They offer fast, reliable repair services for iPhones, iPads and other electronic devices and also and iPads from consumers.
If you would like to get more information about iDeviceMD, please go to their website at http://www.idevicemd.com or call their office at 678-869-9899.