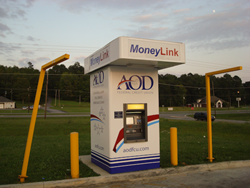 The bank or credit union, usually pays a "Lot Rent" to a land owner. This payment stream can be sold.
Chicago, IL (PRWEB) March 31, 2015
Land and property owners who are receiving payments from a Bank or Credit Union in regards to an ATM machine that sits on their land, can now sell those small monthly lease payments for a large lump sum of cash today.
Many people pass ATM machines all the time without considering how the machine got there. It is very unlikely that the Bank or Credit Union who owns the machine also owns dozens and hundreds of small parcels of land. Usually, the Bank or Credit Union has a virtually perpetual easement of 99 years that grants them the exclusive right to place their machine in that spot, and allow their customers the right to drive their cars onto the parking lot to access the ATM.
"I became aware of this new market when a friend of mine told me that he is receiving $700 per month from just one ATM that was built in his commercial plaza that he owned. We ended up buying 5 years of those payments in return for a nice chunk of change upfront", says Nicholas di Caro, Senior Investment Partner of DICARO & ASSOCIATES, LLC.
Nicholas di Caro is the Founder and Senior Investment Partner of DICARO & ASSOCIATES, LLC. Based out of their Chicago, Illinois location, they buy, sell, hold, and service privately held mortgage notes, trust deeds, land contracts, and installment sales agreements in all 50 states. They are actively buying performing loans secured by single family residences, mobile homes with land, and commercial properties. They have the ability to buy and sell notes that other companies have denied, in addition to providing creative purchase options that are new to the industry. Additionally, they are a boutique loan servicer willing to accommodate unique requests. They specialize in servicing mortgages and loans from $150,000 and above. Learn more at http://www.nicholasdicaro.com