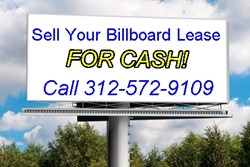 Land owner's now have the ability to sell just a small portion of their billboard ground lease for cash today
San Diego, CA (PRWEB) January 31, 2014
In years past, the only way for a land owner to make money from their land was to farm it, lease the land, or sell the land. Today, a private equity firm in Chicago, DICARO & ASSOCIATES, LLC, announced the creation of a new division of the company with the sole focus of acquiring billboard ground leases across the United States.
Property owners who are receiving payments from CBS Outdoor Advertising, Clear Channel, Lamar Advertising, Adams Outdoor Advertising, WC Media, DDI Media, or many other regional or national billboard advertising companies now have the ability to sell 5 to 10 years' worth of lease payments for a lump sum of cash today.
DICARO & ASSOCIATES, LLC also has the ability to purchase a billboard ground lease in virtual perpetuity. In other words, the property owner remains the property owner, and DICARO & ASSOCIATES will purchase the lease rights for 99 years in return for paying the land owner a huge cash settlement.
Nicholas di Caro is the Senior Investment Partner for DICARO & ASSOCIATES, LLC. Operating in all 50 states from their Chicago, Illinois location, they invest in performing and non-performing real estate notes from $5,000 to $5,000,000. They are actively buying privately held mortgage notes, deeds of trust, and land contracts secured by single family residences, mobile homes with land, and commercial properties. Most recently they have expanded their purchasing ability for billboard ground leases and cell phone tower leases. They have the ability to buy notes that other companies have denied, in addition to providing creative purchase options that are new to the industry. Learn more at http://www.nicholasdicaro.com