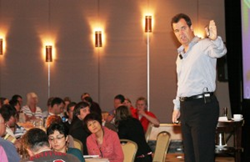 As I said before, affordability can be created in the terms. So if prices are high and not everyone has the cash to pay upfront, the best solution is to adjust the way buyers pay for the house.
(PRWEB) May 05, 2014
"Finding a decent shelter in the major cities in Australia has become a big problem for many low-income Aussies for the past few years, because of the rapidly increasing house prices and rental rates. Now that prices are at an all-time high, some Aussies face the risk of living on the streets due to the continued jump in prices of already expensive private housing and property for rent," according to Rick Otton, the host of the highly anticipated tour, 'Ready, Set, BOOM'.
A new study from Angelicare Sydney found that welfare recipients or low income earners could only afford to rent 0.3 percent of existing private rental property in the city, while only 8 percent can be afforded by minimum wage earners without forcing them to go into rental stress, The Sydney Morning Herald reported on 29 April 2014.
"In the current state of things, it's not impossible to see low-income families out on the streets due to out of this world rental rates. But there is a way to turn things around, and that is to find more efficient ways of buying and selling houses," Mr. Otton said.
Mr. Otton then explained in a new interview for his Ready, Set, BOOM tour that to make the process more efficient people should start doing away with payment of high deposit fees or applying for new home loans, and start to use seller finance strategies.
"Seller finance is more relevant and helpful to Aussies today more than ever before, since the traditional process no longer works in a post-GFC economy. First, the banks have become stricter in lending money to applicants, that's why not everyone can get the money they need to buy a home. Second, most people just don't have enough cash on hand. And in the traditional process, people are required to invest a lot upfront," he said.
"But through seller finance, buyers and sellers will be able to create flexible payment terms. As I said before, affordability can be created in the terms. So if prices are high and not everyone has the cash to pay upfront, the best solution is to adjust the way buyers pay for the house. If the payment terms are convenient enough, more buyers will be able to afford houses today. And if more buyers can buy, more sellers can move away from unwanted debt more quickly. And as a whole, it's a win-win situation for everybody," Mr. Otton discussed further.
If you want to learn more about creative real estate strategies you can join Rick Otton for the second round of his 2014 'Ready, Set, BOOM' Tour. Mr. Otton will be visiting Sydney on 29 May 2014, Thursday, and 31 May 2014, Saturday. Register now at readysetboom.com.au.
For over 23 years property millionaire Rick Otton has built an impressive real estate portfolio using innovative strategies that he has developed – strategies in which transactions are made without the need for traditional bank-type loans.
He constantly refines his techniques as he buys and sells properties through his We Buy Houses business which operates in Australia, New Zealand and the UK.
A gifted speaker and educator, Mr Otton conducts regular seminars across Australia, which build on the the concepts he shares in his 2012 book 'How To Buy A House For A Dollar', voted by Money Magazine and Dymocks Book stores as one of the Top 10 Most Popular Finance Titles for 2013.
He regularly records and publishes iTunes podcasts via his channel Creative Real Estate.
His innovative low-risk, high-reward approach to Australian real estate investing has been featured in a variety of television programs and magazines, including Today Tonight, Hot Property and Australian Property Investor.
To register for one of Mr Otton's free upcoming Australian seminars, visit ReadySetBoom.com.au or phone, in Australia, 1300 888 450.