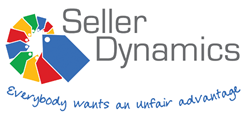 Take advantage, of the 2.5 Billion minutes shoppers spend on ebay UK each month, with Seller Dynamics
(PRWEB UK) 8 September 2014
With Ofcom recently reporting that the British public spent 2.5 billion minutes on eBay UK in March 2014 alone, it's easy to see why eBay listing specialists, Seller Dynamics, have enhanced their eBay listing tools, to ensure that retailers can take full advantage.
The online shopping habit is underpinned not just by ebay but also by Amazon and other international marketplaces such as Rakuten and fnac. Ofcom show that eBay and Amazon regularly swap places as to which is the most popular site – currently eBay have the edge with 27.3 million unique visitors versus 26.9 million on Amazon.
Alex Ogilvie, CEO at Seller Dynamics, commented, "It's hard not to be impressed by eBay – especially on the mobile side. The odd thing is that not all retailers are making the best of it."
For retailers who want to grow on eBay it's important to automate, and to assist with that Seller Dynamics has introduced new streamlined on-boarding features to their latest major release. Existing sellers on eBay can now sign up with Seller Dynamics and quickly move their listings to the powerful marketplace management system.
"We wanted retailers who were on eBay, but who needed to automate, or who wanted to change their systems, to be able to do that easily, that's where our automated on-boarding comes in," said Fraser Ingram, CTO. "We've automated the movement of existing eBay listings to Seller Dynamics to make sure new users can get up and running fast."
With unique visitors to eBay increasing year on year by almost 17%, and for Amazon by over 10%, the dominance of these marketplaces in the UK is apparent, especially when you consider that 3.7 Billion minutes was spent on eBay and Amazon in the UK during March 2014. The enhancement to the eBay selling software ensures that moving to Seller Dynamics is fast and efficient, and with an integrated Amazon repricer retailers can quickly be enjoying increased sales and profits from both marketplaces.
That's a lot of shopping in just one month, 7000 years if you want to look at it another way, that's well worth taking advantage of!
About Seller Dynamics:
Seller Dynamics delivers increased sales and profits for retailers selling across the global marketplaces such as Amazon, eBay, Rakuten's Play and fnac. With best of breed automated repricing, sophisticated stock management and streamlined fulfilment features, Seller Dynamics brings new opportunities to retailers of all sizes with features that include automated eBay listing and Amazon repricing.