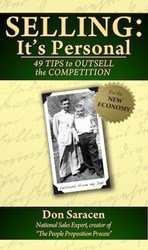 'Selling: It's Personal' will educate, energize and guide the reader to seize this opportunity so that their relationships and business soar.
Bristol, Rhode Island (PRWEB) August 15, 2013
No matter where the reader lives, what they are selling or how they are selling it, one fundamental truth still applies: relationships matter. In fact, in today's vast global market, relationships matter now more than ever before. If the reader is not making meaningfull connections with customers and prospects this very moment, they have an opportunity for growth. Business consultant and expert communicator Don Saracen's new book 'Selling: It's Personal, 49 Tips to Outsell the Competition for the New Economy', will educate, energize and guide the reader to seize this opportunity so that their relationships and business soar.
'Selling: It's Personal' illuminates what's been lost in the new economy and what Saracen learned at the knee of his father—the awareness that people are behind every transaction.
"Today we have numerous ways to communicate with each other from cell phones, emails, texts and tweets to other social media. These are powerful and useful tools but we must always remember that there is a human being on the receiving end of every message," states Saracen.
In 'Selling: It's Personal', Saracen shares insights and tips he's learned along the way, from his father's side to senior management positions. This fast paced no nonsense how-to guide uses stories and real world examples, leading the reader through the five key principles of his People Proposition Process. Preparation, Content, Delivery, Time and Execution. Saracen provides valuable insights on how to do business better. Entertaining and enlightening, there is something for everyone: from the seasoned professional to the entrepreneur just starting out. His tips are easy to adopt and can be used to boost sales immediately.
'Selling: It's Personal' is now available in both ebook (published by eBookIt.com) and paperback format on Amazon, and will soon be available through BN.com and Ingram's catalog.
Review copies of this book are available upon request. The author is also available for interviews.
Contact: Don Saracen
Email: Saracen(at)fullchannel(dot)net
Ph: 401-465-4706
Web: http://donsaracen.com/
Address: 346 Spinnaker Lane, Bristol, R.I. 02809
About the author:
Don Saracen is president of SARACEN Sales & Communications. He is a national sales and change management expert, professional speaker, seminar leader and author. He coaches and consults with businesses and trade associations to improve their interpersonal communication and leadership skills. He has over thirty years of experience in senior management positions with regional, national and multinational corporations. Don is the president of the New England chapter of the National Speakers Association, he holds the Advanced Communicator Gold designation from Toastmasters International, and he is a Rotary International, Paul Harris Fellow.
About eBookIt.com
Since 2010, eBookIt.com (based in Sudbury, Massachusetts) has helped thousands of authors and publishers get their books converted to ebook format, and distributed to all the major ebook retailers, including Amazon.com, Barnesandnoble.com, Apple iBookstore, Kobo, Sony Readerstore, Ingram Digital, and Google eBookstore.