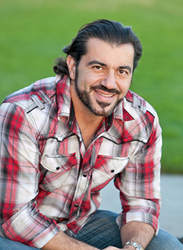 One of the best ways I know to overcome anxiety about selling personal training is to change your mindset about what you're doing.
Chino Hills, CA (PRWEB) June 20, 2014
Bedros Keuilian, founder of the globally-franchised Fit Body Boot Camps, PT Power and Renegade Fitness Marketing, has just launched a tour of Western Canada, where he'll be mentoring and coaching fitness entrepreneurs on selling personal training programs. According to Keuilian, many of them are excellent trainers, but anxiety about selling keeps them from being more successful.
"Whenever I hold a Fitness Business Summit, give a seminar, or meet personal trainers on the road, the most common question I'm asked is how to better their fitness marketing results," says Keuilian. "But the fact is that most of them don't need more or better marketing, they just need to sell what they're already marketing well."
Keuilian explains that most personal trainers have little to no sales experience and seem to expect their marketing to bring in clients who already have their credit cards ready. "That's an unrealistic expectation," says Keuilian. "Even though it's super important, just knowing how to market your personal training or boot camp business and generate leads isn't going to make you more money. You have to learn to convert those leads into paying clients."
Keuilian says that many personal trainers believe in their knowledge, experience and methods enough to share them, but get anxious about actually asking for money for those things. He says the key to overcoming this problem is to change your mindset.
"One of the best ways I know to overcome anxiety about selling personal training is to change your mindset about what you're doing," he explains. "If you're an excellent trainer who gets results and helps people change their lives, then you're offering them something that has a value far exceeding your fees. What is it worth to a Dad suffering from metabolic syndrome if you can help him shed the fat and prevent Type 2 diabetes? What is the value of helping an overweight young woman feel confident and strong for the first time in her life?
Keuilian adds that he coaches his fitness boot camp owners and his private clients to adopt what he calls "education-based selling."
"Rather than listing all of your class times and workouts and the amenities in your facility, you focus on educating the prospect on why they're overweight and out of shape, what needs to be done to change their bodies and everything that you're going to do to get them to that point," he explains. "This changes the personal trainer's focus to selling life-changing results rather than selling personal training as though it were a new smart phone or a burglar alarm."
Keuilian says that when the focus is on results, the prospective client sees the real value and so does the personal trainer. That makes the prospect more likely to buy and makes the process less awkward for the trainer.
"If you focus on the fact that you have a truly valuable program to offer, one that can greatly improve someone's life and health, then you change from being a salesperson into being an advocate and coach and that's something all personal trainers are very comfortable with."
About Keuilian Inc.
Keuilian Inc. (est. 2007) was founded by fitness marketing and business consultant Bedros Keuilian, who has been named the "hidden genius" behind several of the biggest names in the fitness industry. In addition, he is also the founder of the popular fitness marketing blog, PTPower.com, and founder and CEO of the indoor fitness boot camp franchise, Fit Body Boot Camp.
To find out more about Bedros Keuilian and his fitness boot camp franchise, please visit http://www.ptpower.com/ and http://www.myfitbodybootcamp.com/.