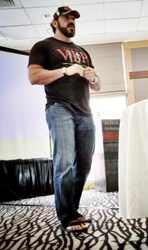 I've always advocated creating online coaching programs to use as an additional stream of income.
Chino Hills, CA (PRWEB) October 24, 2014
Bedros Keuilian makes much of his living and his reputation helping personal trainers to maximize their income potential and their marketing impact. In the latest post to his fitness marketing blog, personal trainers are shown how they can make excellent money selling personal training through online training programs.
"I've always advocated creating online coaching programs to use as an additional stream of income," says Keuilian. "But one of our most successful Fit Body Boot Camp owners, Shawna Kaminski, recently generated $7,000 in just 72 hours by offering an online coaching program and that's really spectacular. Shawna was kind enough to share what she did with my readers."
Keuilian says that one of the chief advantages of creating such a program is that it can continue earning indefinitely, but only needs to be created once, which means passive, evergreen income for personal trainers. Most personal trainers spend a great deal of their time just selling personal training, on top of the time it actually takes to do the training itself.
In the blog post, Kaminski explains that she first polled her email subscribers and asked them to tell a bit about themselves, their fitness goals and their fitness and fat loss obstacles. By doing so, she not only began generating interest in online coaching, but also knew how to tailor a program that would attract and serve the most subscribers.
Once Kaminski had that information in hand, she built interest in the program over the course of a couple of emails and only then did she launch the program. One of the key factors to her success, she says, is that admission to the program was by application only.
As she explains in the blog post, "Making the program 'application-only' accomplishes a few things. It will eliminate tire kickers, help build credibility, make people more likely to read more about the program and also make the group more cohesive once the program starts."
The program Kaminski designed was for 90 days, and Kaminski created both a nutritional plan and a workout program that changed up as participants progressed. Accountability, unity and support was ensured by creating a private Facebook page for the group and group members were required to check in.
"This approach was so successful that Shawna had $7,000 in sign-ups within 72 hours," says Keuilian. "Selling personal training through one-on-one coaching, it would be very hard to generate that kind of income in three days. But the beauty of it is that you can sell and re-sell this program as often as you like, without having to do anything more to it."
About Keuilian Inc.
Keuilian Inc. (est. 2007) was founded by fitness marketing and business consultant Bedros Keuilian, who has been named the "hidden genius" behind several of the biggest names in the fitness industry. In addition, he is also the founder of the popular fitness marketing blog, PTPower.com, and founder and CEO of the indoor fitness boot camp franchise, Fit Body Boot Camp.
To find out more about Bedros Keuilian and his fitness boot camp franchise, please visit http://www.ptpower.com/ and http://www.myfitbodybootcamp.com/.