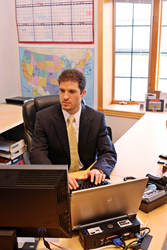 ...he was able to pull some cash out of the contract without having to sell the entire mortgage receivable
Oahu, Hawaii (PRWEB) November 25, 2014
Nicholas di Caro, Senior Investment Partner with DICARO & ASSOCIATES, was a happy man after he purchased this cherry deal in Oahu Hawaii. The borrower's were essentially A+ credit borrower's who put over 25% as a down payment, that equaled $100,000.
When Rex G. inherited a rental property from his late parents, he needed to sell the property in order to settle the estate and close the affair with his siblings. Upon selling the property all of the heirs planned on splitting the proceeds equally.
Instead of this happening, he was forced to carry the financing in the form of an owner financed mortgage note and receive the payments over 30 years.
Fortunately, he was able to work out a deal with DICARO & ASSOCIATES where he could pull some cash out of the note by selling only a portion of the payments. He was able to get some cash to appease his siblings, since most of the large down payment was used to settle debt. It all worked out in the end.
Nicholas di Caro is the Senior Investment Partner for DICARO & ASSOCIATES, LLC. Operating in all 50 states from their Chicago, Illinois location, they invest in performing and non-performing real estate notes from $5,000 to $5,000,000. They are actively buying privately held mortgage notes, deeds of trust, and land contracts secured by single family residences, mobile homes with land, and commercial properties. Most recently they have expanded their purchasing ability for billboard ground leases and cell phone tower leases. They have the ability to buy notes that other companies have denied, in addition to providing creative purchase options that are new to the industry. Learn more at http://www.nicholasdicaro.com