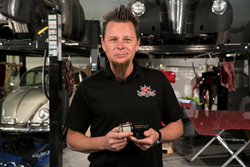 "When it comes to engine performance we need a fuel pump that will match the build- that's why we choose Facet® & Purolator® brand fuel pumps" - Dave Kindig
Elmira, NY (PRWEB) September 19, 2017
Motor Components, LLC, manufactuerer of Facet® & Purolator® electronic fuel pumps and fuel filters will be exhibiting at SEMA Show 2017 in Las Vegas, Nevada, November 1st - 3rd, Booth #74008, South Central Hall's Performance & Racing Annex.
Motor Components is a leading manufacturer of electronic fuel pumps for over 65 years and is located in Elmira, NY USA an ISO 9001:2015 facility. All of their fuel pump products are engineered and assembled at this facility and distributed around the world.
Facet® & Purolator® brand electronic fuel pumps are known for tough OE off-road applications, as well as the best product for carburetor classic cars and hot rods. This year will be Motor Component's second year exhibiting at SEMA Show and their first year exhibiting in the Performance & Racing Annex, however in past years they have exhibited at APPEX.
Motor Components offers in-tank, in-line and module assemblies fuel pumps and accessories that are specifically engineered for a wide variety of domestic and foreign vehicles supplied with kit and strainer for fast, easy and safe installation. Please watch the follow installation videos for the most popular Facet® & Purolator® electronic fuel pumps on Youtube: POSI-FLO®, CUBE® and GOLD-FLO®. Facet® & Purolator® line of fuel pumps as well as fuel filters will be on display at their booth in South Central Hall.
Motor Components will have a team of fuel systems experts comprised of over 90 years of experience to answer questions. This will be a great resource for any classic car enthusiasts or hot rod owners that would like to learn more about increasing their engine's fuel performance.
Dave Kindig, of the hit TV show Bitchin' Rides and owner of Kindig-It Design in Salt Lake City, Utah, has recently endorsed the Facet & Purolator electronic fuel pump because in his terms, "they're the best in the business." Kindig was introduced to Motor Components at 2016 SEMA Show, where he thereafter found interest in the American brand company.
He is scheduled to appear at Motor Components' Booth #74008 on Thursday, November 2nd from 1:30PM to 2:30PM. Watch Dave Kindig speak about why his team at Kindig-It Design chooses Motor Component's brand Facet® & Purolator® here electronic fuel pumps.
Motor Components also private labels their electronic fuel pumps for many well known OEM and Aftermarket companies that places an emphasis on high quality product for their brands.