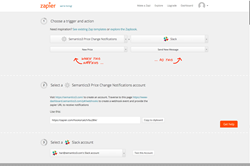 Our massive database and APIs are helping drive the growth of push notifications by delivering the most up-to-date and comprehensive price and product data from anywhere on the Web. - Sivamani Varun, CEO
San Francisco, CA (PRWEB) May 21, 2015
Today Semantics3, the world's largest eCommerce product and price database, announced its new Push API that delivers product price changes in near real-time. The Push API empowers online retailers, shopping sites and apps to update prices, offer shopping deals, track competitors' pricing, and access advanced product analytics to provide better shopping experiences. Retailers can also use the Push API as part of their Minimum Advertised Prices (MAP) compliance checks, or to help launch and price new products more effectively.
Unlike outdated data feeds provided by retailers or affiliate networks, Semantics3 delivers much more accurate and up-to-date product data by directly indexing and processing product pages in near real-time.
Growth of Push Notifications
How consumers shop online is starting to change from just searching for products (e.g., Google) to receiving personalized, contextual and timely offers via push notifications. A survey by Localytics found that eCommerce apps with push notifications enabled saw much higher user engagement – a 278 percent increase in app "launches" (apps being opened), which beat all other app categories (source: eMarketer).
But the problem for consumers – and many eCommerce sites – is accurately keeping track of rapid changes to pricing, inventory, and other product data across millions of products from thousands of retailers and sites. This problem often results in lost sales and frustrated consumers who can't find the right product, miss out on better discounts or deals, or fail to become repeat customers due to poor shopping experiences.
"Push notifications are increasingly becoming the starting point for interactions on mobile devices and websites, helping drive engagement and revenue," said Sivamani Varun, CEO and co-founder of Semantics3. "Our massive database and APIs are helping drive the growth of push notifications by delivering the most up-to-date and comprehensive price and product data from anywhere on the Web."
How Semantics3 Works
Using the new Push API, eCommerce developers and product managers can create and receive push notifications for price changes on any product in the Semantics3 database. When product prices change, push notifications are automatically sent and can be subsequently delivered to consumers. Retailers can also be instantly notified if a competitor lowers its prices.
Using the Pull API, customers can search and access product data via name, price, brand, model, color, size, images, dimensions, and weight among numerous other data fields. They can also find products by UPC (unique product code) and pull detailed product data with recent and current prices on almost any tangible product sold online.
Retailers can use Semantics3 APIs to view and track competitor prices, access product catalogs, and track the newest products in the market to help launch and price new products more effectively.
Meanwhile, eCommerce app developers find Semantics3 APIs useful as a replacement for a product database and to help provide features like price comparison, product curation, and price drop alerts.
Semantics3 updates its product data frequently, sometimes up to every 24 hours. A variety of signals are used to determine the priority of price updates, which include product popularity, demand for push notifications on a particular product, and historical price changes.
"We needed a reliable, quick and easy way to get high quality and up-to-date product data like photos, descriptions, and prices from nearly 750 retailers," said Alex Sonneborn, CEO of ebindle.com, an online shopping site. "We're very happy using Semantics3, and are thrilled with how quick it was to implement and with the high quality of product data it provides."
Semantics3 offers two plans: the Startup Plan at $749 per month and the Growth Plan at $1,499 per month. For both plans, users can sign up for a free, 30-day trial with no further obligation. Additionally, developers who want to test the API before signing up, can use the free Demo Plan that offers limited pricing data.
For enterprise customers, Semantics3 offers customized solutions whose price depends on usage and any customized requirements. For complete plan details, visit http://www.semantics3.com/pricing.
About Semantics3
Semantics3 offers the world's largest database of eCommerce product and price data, including 10 billion product offers from 70 million unique products. Semantics3 extracts price and product data directly from the vast majority of IR500 retailers in the U.S. and several prominent retailers in the U.K. and Australia. The company's customers can also request custom indexing of websites not currently in the database. Access to the database is provided via the company's Pull and Push APIs, where users can make pull requests (also known as search) for product data and prices, or get push notifications for price changes on any product in the database. Founded in 2012 and headquartered in San Francisco, Semantics3 investors include Y Combinator and National University Singapore (NUS) Enterprise. For more information, visit http://www.semantics3.com, email contactus(at)semantics3(dot)com, or call 1-844-9-GETDATA.