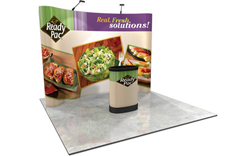 (PRWEB) May 19, 2014
Displays and Exhibits, the premier online retailer of trade show display and accessories, is offering a free shipping promotion on their best-selling 10' Pop Up Display. This offer is available when purchased from the promotional link for the upcoming SEMICON West and InterSolar shows in San Francisco, California.
Ideal for the electronics manufacturing industry, the popular pop-up design is perfect for showcasing a business's commitment to innovation and excellence.
Fundamental in building out a trade show booth, pop-up display products are big-impact, high-convenience options. They stand out beautifully at any trade show or exhibit. At just $1595, the efficient design offers a passerby a vivid and attention-grabbing backdrop while professionally setting the stage as a great area to meet and greet, talk shop, and educate visitors about products and business.
Displays and Exhibits limited time SEMICON and InterSolar trade show promotion is the perfect chance to update the effectiveness of a booth display. Ease of use ensures that any tradeshow team is free to focus on the clients traffic at hand. The complimentary shipping is an even greater reason to take advantage of this limited time offer. This product's endless versatility means you'll score additional savings far past the initial discount.
Displays and Exhibits has designed a full range of additional marketing materials and accessories, including slat wall panels, hanging signs, iPad kiosks, table top displays and more. Working together with exhibitors from small to large organizations across the country, Displays and Exhibits provides top quality trade show booth displays that deliver results on the showroom floor.
For more information on this promotion for SEMICON West and InterSolar exhibitors, call (888) 282-8858 or visit our web site.
About Displays and Exhibits
Displays and Exhibits is a division of Absolute Exhibits. Established in 2000, Absolute Exhibits began as a portable/modular distributor, and now rents large custom exhibits at over 300 shows in the USA and in countries around the world.
Displays and Exhibits was formed to serve the needs of first-time exhibitors and seasoned exhibitors that go to local and international trade shows across the globe. They also work with clients that do community work, in-house events, fairs, and festivals. The company offers portable banner stands, display boards, digital kiosks, display lights, display signage, and exhibit furniture.