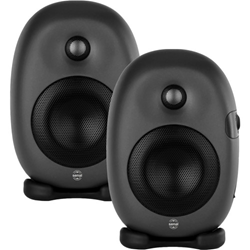 Senal Announces Flagship ASM Series Professional Two-Way Active Studio Speakers—Now Available at B&H Photo Video
New York, NY (PRWEB) January 23, 2014
Senal has announced the release of their flagship studio monitors—ASM series Professional Two-Way Active Studio Monitors. Crafted for critical near-field monitoring in professional audio applications, the ASM series monitors are engineered to deliver pristine audio reproduction and accurate stereo imaging, even at high sound pressure levels. The Senal ASM series is available with 3", 4", 5" and 6" woofer designs to meet a wide range of audio monitoring needs.
The cabinet's ellipsoidal contour keeps diffraction and resonance to a minimum, resulting in exceptionally transparent sonic imaging, on or off axis. The cabinet is forged from rigid, high-intensity aluminum alloy to ensure consistent performance and durability. A rear-facing port and internal port tube provide expanded low-frequency output.
The compact ASM-3 is geared toward desktop multimedia applications. The ASM-4, ASM-5 and ASM-6 are ideal for studio monitoring and mixing, and feature low, mid and high fine tuning to compensate for room deficiencies, and a high pass filter for sub woofer pairing.
All models feature precision-engineered power amplifiers that drive composite woofers, and metal dome tweeters for accurate transient response. An included rubber base isolates the speaker from its resting surface to prevent resonant coupling, making it easy to adjust the vertical angle of the speaker by +/- 15° to down fire or up fire.
Senal is committed to creating professional audio equipment with superior sound quality, outstanding features and sensible ergonomics.
The 2014 NAMM Show, one of the most important events of the year in regard to new innovations in music, recording, and sound reinforcement equipment is about is taking place in Anaheim, California. The massive surge of exciting new product announcements has already started streaming in.
About Senal
Senal is committed to creating high-quality professional audio equipment. Their engineers apply extensive real-world experience to produce exceptional products. Their focus on superior sound quality, outstanding features and sensible ergonomics, ensures Senal products will meet the most demanding professional audio needs.
Connect with B&H Photo on the web. (Facebook, Twitter, Tumblr, Google+, Pinterest, Flickr, YouTube, B&H Insights & InDepth)
About B&H Photo Video
As the world's largest source of photography, video and audio equipment, B&H Photo-Video is known worldwide for their attentive, knowledgeable sales force, and excellent customer service, including fast, reliable shipping. Visitors to the website can access a variety of enlightening articles and educational videos. B&H has been satisfying customers worldwide for close to 40 years. http://www.bhphotovideo.com/