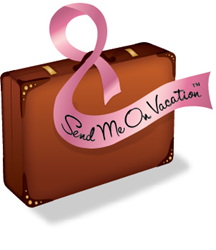 San Diego, California (PRWEB) April 08, 2015
As the biggest names in the resort and timeshare industries get ready for the ARDA World 2015 Conference this spring, Send Me On Vacation would like to invite them all to start the conference off right by attending an extraordinary charity event. On Saturday April 11th at the World Center Marriott, the second annual charity poker tournament will be held in support of Send Me On Vacation's mission to send women with breast cancer on once in a lifetime trips with their loved ones. For many of these women, the unforgettable vacations offer them a chance to rejuvenate after months of treatments and exhausting battles with the illness. For others, these vacations may be the last chance that they have to travel with their families.
Many in the vacation industry have offered their support to this cause year after year, and the poker tournament will be a way for attendees of ARDA world to enjoy a night playing poker, blackjack, or roulette while also raising money for this outstanding organization to send more women on these life changing trips.
Some of the biggest names in the time share industry have spent years supporting the cause of Send Me On Vacation, and this year at ARDA World 2015, a number of them have come together to host the event. These organizations include Vida Vacations, Festiva Resorts, SFX, Travel To Go, Unlimited Vacation Club, Impact International, Advantage Travel, Casablanca Express, Vaycaystay Connect, Perspectives, Karisma Hotels & Resorts, Condominium Travel Club, Global Connections, Generator Systems, TrackResults, and Westgate Resorts. The whole Send Me On Vacation team would like to once again thank all of the supporters from the community for their ongoing support.
With the assistance of these industry leaders, the goal of this year's event is to raise enough proceeds to send at least 100 breast cancer patients on extraordinary trips that will lift their spirits and help them fight the emotional toll of the disease as well as the physical. This is the second year that the annual event has been hosted at ARDA and Send Me On Vacation President Cathy Backus and the entire team are hoping for another successful night.
Come Saturday night to enjoy a night of gaming and excitement and raise money to make dreams come true for these women. The event will be held from 8pm to 11pm on the 11th and it is sure to be a night to remember and one that will change lives forever. To learn more please visit http://sendmeonvacation.org/
###
JW Maxx Solutions is the official press distributor for Send Me On Vacation. A leading online reputation management firm in Phoenix, Arizona, JW Maxx Solutions is also a proud supporter of the Send Me On Vacation mission and further supports the organization by hosting the SMOV website, and sponsoring several Send Me On Vacation Events each year. To learn more about JW Maxx Solutions' services, as well as the other organizations they support, please visit http://jwmaxxsolutions.com/.