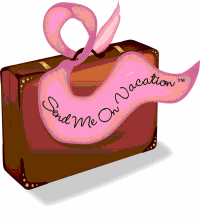 San Diego, California (PRWEB) May 30, 2014
On May 18, the Breast Cancer Survivor group, Send Me On Vacation, and Melanoma Survivor group, the Dean Hedstrom Foundation, put on a golf tournament as co-charities in order to raise funds for both organizations. Held at the Belleair Country Club in Belleair, Florida, it was the first time that these two charities had come together for a mutual cause: to raise money for those in need.
In honor of Dean Hedstrom's memory, a well-known, well-respected and accomplished golfer, 38 golf pros from across the United States came to be a part of the 5-man golf teams that competed. Each team consisted of four amateur golfers and one golf pro.
At the start of the day at 10 a.m., there was a free cancer screening for skin cancer that was run by the Dean Hedstrom Foundation. Send Me On Vacation, a non-profit dedicated to sending women on vacations to heal their mind, body and spirit after they have completed breast cancer treatments, also had a booth that informed attendees about SMOV's mission and raised breast cancer awareness.
One of the highlights of the event was the ball drop, where 800 pre-purchased balls were dropped onto a hole on the golf course from a helicopter, including one pink golf ball dropped in Send Me On Vacation's honor. The ball that landed closest to the hole or made it into the hole won its owner $500.
Immediately following the ball drop was the tournament, which was then followed by an awards dinner at 5 p.m. During the dinner, the Send Me On Vacation recipient, Jennifer Erwin, spoke to those who had spent their day supporting both charities' causes. Mrs. Erwin is a melanoma survivor as well as a breast cancer survivor who now has terminal colon and stomach cancer.
"When she spoke, there wasn't a dry eye in the room," said Cathy Backus, president of Send Me On Vacation. "We're so thrilled to be able to send Jennifer, her husband and their three children on an incredible vacation."
The silent auction that took place during the awards dinner generated over $10,000 in pledges, benefiting both Send Me On Vacation and the Dean Hedstrom Foundation.
For more information about the event, visit http://www.sendmeonvacation.org or http://dhfma.org/.