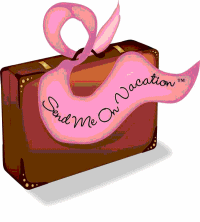 Las Vegas, Nevada (PRWEB) August 19, 2014
Send Me On Vacation is a 501 (c)(3) charity with the mission of sending breast cancer survivors on vacations to rejuvenate their body, mind and spirit and aid in coping with the emotional and physical tolls of cancer treatment. This upcoming October, the SMOV team will be flying across the country thanks to the generous contribution that JetBlue Airlines has made to Send Me On Vacation. "JetBlue was delighted to provide flights to help breast cancer survivors go on their dream vacations. As flying is our core business, this was a perfect fit for us. We align our in-kind support with our crewmembers' passions. One of our pilots is a volunteer for the organization and was instrumental in developing this partnership, said Icema Gibbs, director corporate social responsibility, JetBlue Airways. "We are excited to support worthy causes such as Send Me on Vacation."
"Volunteers like JetBlue pilot Alan Altman encourage both corporate and community involvement thus enabling us to send breast cancer survivors from across the country on a well-deserved vacation," says Cathy Backus, the charity's founder. "The vacation, following treatments, is used as a catalyst in supporting the emotional healing aspect of recovering from breast cancer."
Send Me On Vacation has selected six members from the organization to jet from San Francisco to New York, from Washington D.C. to Los Angeles and end the tour in Las Vegas, Nevada. In each of the five cities, a walk will be held in honor of local breast cancer survivors who have endured the physical and emotional effects that breast cancer has had on their lives. Send Me On Vacation emphasizes the need for increased awareness of the emotional struggles survivors face in battling cancer and continues to develop programs to address the aftermath.
The entire journey will be chronicled on both the Send Me On Vacation website and Facebook page. At each of the stops, multiple vacations will be awarded to numerous breast cancer survivors during a fundraising event held in each city. In total, over 12 women from six cities will be given the chance to enjoy a dream vacation after surviving treatment for breast cancer.
The group has gained national media exposure on KTLA news and video in Los Angeles County, radio, TV and celebrity talk shows in order to bring light to their journey to raise awareness about breast cancer and the struggles that many breast cancer survivors face when the physical treatment has been completed and the emotional healing begins.
Send Me On Vacation is excited for this multi-city journey to raise awareness for the post-treatment needs of breast cancer survivors and to raise funds to send incredibly deserving women on vacations to heal their mind, body and spirit. For more information about all of the events that SMOV has planned for breast cancer awareness month, contact the charity today at http://www.sendmeonvacation.org or call Cathy Backus at 702-277-3812.
###
JW Maxx Solutions is a proud sponsor of Send Me On Vacation and are the leaders in content management solutions, online reputation management and digital branding. Locally owned and operated in Phoenix, Arizona, JW Maxx Solutions has maintained an A rating with the BBB for over six years. JW Maxx Solutions is part of a fine family of businesses including Reputation Maxx, Enterate Ahora and Prensa Ahora with an international reach into Canada and Latin America as well as throughout the rest of the world. For more information about the services that JW Maxx Solutions provides, visit http://jwmaxxsolutions.com.