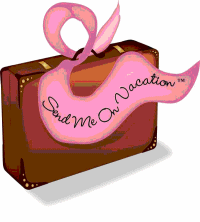 San Diego, California (PRWEB) October 17, 2014
Send Me On Vacation, a 501 (C) (3), hosted events traveling from coast to coast awarding breast cancer survivors dream vacations provided by Diamond Resorts International. A global leader in hospitality and vacation ownership, Diamond Resorts has partnered with Send Me On Vacation to provide "Vacations for Life" to all recipients awarded on a tour across America.
Send Me On Vacation was "Reaching for the Stars" at the Hollywood Roosevelt Hotel on Oct 9, 2014. Well-known celebrity, Joyce Giraud captured the hearts of everyone who attended, sharing the story of her mother who has been affected by cancer. Joyce's true beauty and amazing grace touched the hearts of survivors and let them know that cancer does not discriminate. Every three minutes, a breast cancer diagnosis is made and everyone - both men and women - have to do all they can to support women and their families that have been affected by cancer. Accompanied by her husband, producer Michael Ohoven, the couple spent hours mingling with survivors and guests in support of Send Me On Vacation.
"Joyce and Michael are amazing people with hearts of gold," said Send Me On Vacation's President and Founder, Cathy Backus. "So many times, celebrities attend events to be seen, but this was not the case. Joyce and Michael are as beautiful people both inside and out. We were blessed to have them there to inspire women with cancer."
Sponsoring the event was the Roosevelt Hotel, which is located in West Hollywood, California. The event was a monumental success due to the generosity shown by the level of participation from the hotel and other local sponsors including Lily & Rose Florist, Carmen Steffens, Hubert's Lemonade, Zonin USA Wines and the Shoe Palace. Each of these companies pride themselves in supporting the local community and empowering women.
Hosted by Lu Parker, anchorwoman (KTLA), former Miss USA, and an Emmy and Genesis Award-winning journalist, the evening was transformed into a journey of insight with the charity's mission and those who support the concept of emotional healing associated with breast cancer.
Allison Gryphon was the honoree for her brilliant work on producing the film, "What The F Is Cancer And Why Does Everyone Have It?" Dressed in Haute Couture by Carolyn Hallak, Allison Gryphon was stunning as she took the podium and shared the truth about cancer and the lack of attaining "Need to Know" information when a diagnosis is made. The WHY Foundation, created by Allison to fund her film, has partnered with Send Me On Vacation to supply the educational material for the online care program launching in mid-November.
Dr. Kevin Kelly, a diagnostic radiologist and past director of Huntington Memorial Hospital & The Hill Breast Center has created SonoCine, a whole breast screening using ultrasound (harmless sound waves) to detect invasive breast cancer. He attended the event to share his work and educate women about early detection with SonoCine. It is harmless and much more accurate in detecting breast cancer in young women and women with dense breasts where tumors are often undetectable.
"The cost of the scan is affordable and should be considered as a yearly procedure," said Dr. Kelly."
Jacqueline Ruddy, Gisele Hayak and Adreen Johnson were awarded their dream vacation during the evening. Providence Health System supported a portion of vacation for all three recipients.
Many thanks to Iris Caplan, Jackie Mark, Lloyd Boldger, Eric Horwitz and Lanae Brody Jacobs for their contribution to the event. Perfectly executed, the event was produced and directed by Mark Valinsky of Valinsky Media Group.
For more information about Send Me on Vacation go to http://sendmeonvacation.org/ and donate today.
###
JW Maxx Solutions is a leading online reputation management and public relations firm that handles all of the press distribution for Send Me On Vacation. In addition, the company hosts and updates the SMOV site on a regular basis, assisting in SMOV's efforts to get the word out about its incredible program. JW Maxx Solutions provides this services as part of its philanthropic efforts to assist with several worthy causes around the world. The firm has long been a supporter of Send Me On Vacations' program and sponsors several events every year. For more information about the services that JW Maxx Solutions provides, visit http://jwmaxxsolutions.com.