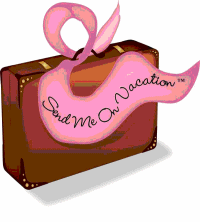 Phoenix, Arizona (PRWEB) June 26, 2014
On June 29, women from all over the greater Phoenix area will be heading to the Mt. Claret Retreat Center for the Jessica Camponovo - Goodness Vacation Tea. Hosted by the Breast Cancer Organization, Send Me On Vacation, the Tea will be in honor the late Dr. Camponovo, who passed from breast cancer.
Send Me On Vacation is a 501(c)(3) non-profit organization that has championed the mission of sending economically disadvantaged breast cancer survivors on a much needed vacation following cancer treatment to aid the emotional healing process of the body, mind and spirit. The organization currently sends dozens of women a year on a dream vacation. Often due to the high costs of cancer treatments, many women never get to take a vacation from cancer. This is where Send Me On Vacation steps in to make these women's vacation dreams come true.
The Goodness Vacation Tea is a tribute to Dr. Jessica Camponovo who recently passed away from breast cancer at the young age of 30. A graduate of the University of Arizona in Tucson, it was Jessica's dream to become a pediatrician. She met the love of her life, Andrew, while in training in New York and had a wedding planned for this past April, though it never happened because unfortunately Jessica was unable to survive her cancer.
Among the women in attendance at the event will be Jessica's mother, Trudy Campanovo, as well as SMOV's first Goodness Vacation recipient, Tammy Metzger. The mission of the "Goodness Vacation" program is to provide women in Stage 4 breast cancer, with a staycation experience that nourishes their heart and soul, avoiding the rigor of long distant travel. The program was inspired by Ms. Paulla Miller, Community Outreach and Patient Resource Manager at John C. Lincoln Hospital. The program will allow Send Me On Vacation to reach out and help more women in late stages of cancer to make their vacation wish come true.
"Some survivors are not able to travel long distances, but the dream of a vacation can happen in their own back yard," said Cathy Backus, Send Me On Vacation's Founder and President. "With the support of the local community, sending a woman on a vacation close to home can deliver the same benefits – if not more – than traveling across the country. Our mission is to rejuvenate the body, mind and spirit, and we believe that the vacation experience is a key element in creating the opportunity for nourishing the soul of the survivor." For more information, visit http://www.sendmeonvacation.org.