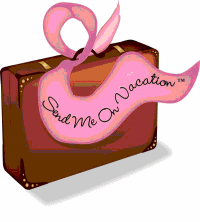 San Francisco, CA (PRWEB) August 14, 2014
Send Me on Vacation hosts many events throughout the year to raise money in order to send breast cancer survivors on a well-deserved vacation to rejuvenate their body, mind and spirit. This year, during Breast Cancer Awareness Month, Send Me on Vacation is going to "Crush Out the Effects of Cancer" with a one-of-a-kind Wine Maker Dinner that will take place on the Napa Valley Wine Train as it winds its way through breathtaking wine country on October 2, 2014.
Send Me On Vacation is excited to announce that on October 2 from 6:00pm -9:30pm the wine train will celebrate Breast Cancer Awareness month. Four local Napa Valley winemakers will pair their extraordinary wines with a gourmet dining experience hosted in one of the train's six unique dining cars. Hunter III Wines, Annadel Estate Winery, Charles Krug and Delectus Winery have all committed to hosting dinners for this amazing event. This is the fourth annual Send Me On Vacation event hosted in the Napa Valley. "Local events allow us to send Napa Valley breast cancer survivors on vacation through an affiliation with the St Helena Hospital Martin O'Neal Cancer Center," says Victoria Acquistapace. "Hunter III Wines has led the way in creating a group of winemakers that are dedicated to crushing out the effects that cancer leaves behind."
The Napa Valley Wine train will offer three different dinner options. The Silverado Car (hosted by Charles Krug Winery) at $159 per person offers a taste of some of the grilled delights to be found throughout Napa Valley while enjoying an open-air railcar that features a western atmosphere. The Gourmet Car (hosted by Delectus Winery) at $189 features the options of both a Lounge Car/Dinner Car and a Dinner Car/Dessert Car and features white linen for dinner as well as relaxing on comfortable lounge chairs for dessert. Relive the glory days of when trains were at their peak by dining in luxury in the Vista Dome Car, a cut above the rest, (hosted by Annadel Estate Winery) featuring 180-degree views of the spectacular Napa Valley for just $199 per person.
Each car's dining selections will be paired with its vintner selected wines, making this a truly unique experience for all those involved. For more information about this special wine train experience call the wine train at 1-800-707-253-0920 and request the Send Me On Vacation Wine Maker Dinner to reserve your spot at this one-of-a-kind charity event today. http://www.sendmeonvacation.org.