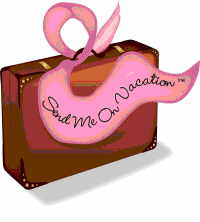 Las Vegas, Nevada (PRWEB) September 08, 2014
Angelo Sosa has joined forces with Send Me On Vacation to declare, drive and deliver the goal of sending one breast cancer survivor a day on a dream vacation in 2015 following the completion of their treatment. The project, "Survive and Thrive", will begin ramping up this fall to ensure the goal can be met. The Las Vegas based organization serves women throughout the U.S. and Mexico through affiliations with hospitals, cancer centers and other non-profit groups across America. Currently, a large majority of the group's funding comes from fundraising events and sponsored help in cities nationwide.
This October 2014, Send Me On Vacation is Jetting Pink Across America on JetBlue airlines and Angelo Sosa has joined the team of sponsors and volunteers. The tour starts in Napa Valley on the Napa Valley Wine Train and jets to New York City, where a benefit will be held at Angelo's signature restaurant, Anejo in Tribeca. Anejo in Tribeca will have its grand opening in mid-August, which is just in time for breast cancer awareness month in October, making this the group's first event in NYC. Eat ● Drink ● Pink ● Anejo Tribeca will be held on October 6 from 5p.m. to 9p.m. and Angelo will be cooking in pink for the event.
"This charity is amazing and very close to my heart," says Angelo Sosa. "One of my very close friends, also a breast cancer survivor, has become very passionate about the organization and she is "Jetting Pink Across America" with the group in October to send a survivor from each city on vacation."
Rhayne Thomas, born and raised in NYC, has recently been appointed the Vice President of the organization and has left no stone unturned in spreading the word about a charity that picks you up when treatment ends. "It is only when you have completed the physical treatment that the weight of the emotional effects of fighting cancer begin." says Thomas. "You are so busy waging war against the disease and managing the physical effects from the treatment, you just don't have time to slow down and think about any of the emotions that are patiently waiting for you on the last day of treatment. The truth is they are equally as frightening as the moment you are diagnosed with cancer but you tend to have conflicting emotions about it because you're so happy it's finally over. Only when the treatment ends can you really start the emotional healing process. Send Me On Vacation really paves the way for a positive outcome."
"SMOV is an organization that looks at more than just the effects of cancer that meet the eye. They look deep into the spirit and feed the soul of the survivor." says Angelo Sosa. "I'm excited to reach out to everyone I know and ask them to support this incredible cause of changing lives, one vacation at a time, every day next year!"
Send Me On Vacation is a program run by Corporate Citizenship Charities, a 501 (c)(3) and has been operating for four years. It has no paid employees and is run by a team of volunteers that consider their work a labor of love. Founder Cathy Backus was inspired to start this organization when her closest friend, Pam Horwitz, was recovering from her second bout of breast cancer. These two best friends started making tremendous changes to the lives of survivors and their families four years ago driven by the passion of friendship and their desire to helping women in need. To make a donation or for more information go to http://www.sendmeonvacation.org
Attend "A Winemaker Dinner to Crush Out the Effects of Cancer" this October hosted by Send Me On Vacation on Napa Valley's own Napa Valley Wine Train. Wind through breathtakingly beautiful scenery while sipping on some of the area's best wines and dining on a delicious meal for a three-hour long trip. Tickets can be purchased to ride the train or a donation of $150 will send a breast cancer survivor on the ride of her life! Those who donate $2,500 or more will receive an 8-day/7-night stay at a five-star resort in Cabo San Lucas. Donations can be made at https://www.indiegogo.com/projects/get-on-the-train-breast-cancer-survivors.
###
JW Maxx Solutions is a proud sponsor of Send Me On Vacation and are the leaders in content management solutions, online reputation management and digital branding. Locally owned and operated in Phoenix, Arizona, JW Maxx Solutions has maintained an A rating with the BBB for over six years. JW Maxx Solutions is part of a fine family of businesses including Reputation Maxx, Enterate Ahora and Prensa Ahora with an international reach into Canada and Latin America as well as throughout the rest of the world. For more information about the services that JW Maxx Solutions provides, visit http://jwmaxxsolutions.com.