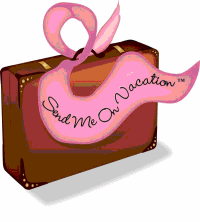 Napa Valley, California (PRWEB) September 09, 2014
Send Me On Vacation is a 501 (c)(3) charity that sends women who have recently completed treatment for breast cancer on a dream vacation to renew their body, mind and spirit. During the year, events are held throughout the country to raise money to fund over 50 survivor vacations a year. SMOV focuses on supporting the emotional wellness of breast cancer survivors in the communities where the events are held. On Oct. 2, 2014 and in partnership with St. Helena Hospital in Napa Valley, California, Send Me On vacation and the Napa Valley Wine Train present a Winemaker Dinner from 5:30pm to 9:30pm to "Crush Out The Effects Of Cancer."
Give a survivor the ride of her life by purchasing a ticket that will be donated to the St. Helena Hospital's Martin O'Neal Cancer Center. The center will give a woman who is battling cancer a chance to attend a wonderful evening on the Napa Valley Wine Train on Oct 2, 2014. All you have to do is make the purchase of the Survivor Donation Ticket online at http://www.sendmeonvacation.org for $150 and Send me On Vacation will do the rest. "We hope to fill a dinner car of 72 cancer survivors," says Alyshia Mondavi, winemaker at Charles Krug Winery. "A small random act of kindness such as this means so much to these brave women fighting cancer and we are elated to be a part of this incredible event."
During Breast Cancer Awareness Month, SMOV will partner with 4 local Napa Valley winemakers including Charles Krug, Delectus, Hunter III Wines and Annadel Winery at an AMAZING Winemaker Dinner on the Napa Valley Wine train! This wine-paired gourmet dinner will make its way through California's beautiful wine country with a full car of sponsored breast cancer survivors enjoying the ride. There will be four dinner options complete with wine pairings from local Napa wineries! This once in a lifetime event will take place on October 2, 2014 from 5:30pm – 9:30pm in Napa Valley, Calif.
Thinking about attending? To learn more about this one of a kind charity event and book your ticket today you can find the invitation at http://www.sendmeonvacation.org or call 707-253-0920. Proceeds from this event will be used to send many local breast cancer survivors on a much needed dream vacation!
Attend "A Winemaker Dinner to Crush Out the Effects of Cancer" this October hosted by Send Me On Vacation on Napa Valley's own Napa Valley Wine Train. Wind through breathtakingly beautiful scenery while sipping on some of the area's best wines and dining on a delicious meal for a three-hour long trip. Tickets can be purchased to ride the train or a donation of $150 will send a breast cancer survivor on the ride of her life! Those who donate $2,500 or more will receive an 8-day/7-night stay at a five-star resort in Cabo San Lucas. Donations can be made at https://www.indiegogo.com/projects/get-on-the-train-breast-cancer-survivors.
###
JW Maxx Solutions is a proud sponsor of Send Me On Vacation and are the leaders in content management solutions, online reputation management and digital branding. Locally owned and operated in Phoenix, Arizona, JW Maxx Solutions has maintained an A rating with the BBB for over six years. JW Maxx Solutions is part of a fine family of businesses including Reputation Maxx, Enterate Ahora and Prensa Ahora with an international reach into Canada and Latin America as well as throughout the rest of the world. For more information about the services that JW Maxx Solutions provides, visit http://jwmaxxsolutions.com.