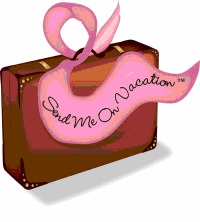 Las Vegas, Nevada (PRWEB) September 10, 2014
This year "Pink is the new Red" for Rob Hunter from Hunter III Wines who has recently released his Petite Syrah Rouge in support of Send Me On Vacation. Hunter III Wines located in St. Helena CA was the first winery to get behind Send Me On Vacation in the Napa Valley. SMOV chairwomen, Victoria Acquistapace, assistant winemaker for Hunter III wines, was instrumental in aligning Hunter III wines with Send Me On Vacation.
Over the past four years Send Me On Vacation has created partnerships with dozens of wineries in Napa Valley.
The mission of Send Me On Vacation is to use the vacation as a catalyst for breast cancer survivors to cope with the emotional and physical effects of surviving cancer treatment. SMOV believes that when the physical treatments end, the emotional struggles begin. Currently, SMOV annually awards over fifty women from throughout the country with well-needed vacations.
"The need to go on vacation and get away from it all multiplies when you are a cancer survivor," says Pam Horwitz, a two time survivor and chairwomen of Send Me On Vacation's Survivor Committee. In addition to sending women on week-long vacations, the organization recently launched a program called "The Goodness Vacation" in Phoenix, Arizona. The Goodness Vacation is four-night Staycation for women with Stage 4 cancer who are unable to travel far from home. Its purpose is to provide a nourishing getaway from ongoing treatments that create a heightened sense of wellness. SMOV will be launching this program in multiple cities across the country. The second city to launch the Goodness Vacation will be in St. Helena, California on October 2, 2014. Partnering with the Wine Country Inn, the first Goodness Vacation recipient will enjoy the beauty of the gardens and the impeccable service the inn delivers.
Affiliated with St. Helena's Martin-O'Neil Cancer Center, the group is able to send patients from the Napa Valley on a vacation when treatment is completed. "Colleen Winters, Patient Care Navigator, was instrumental in guiding us through the process of aligning the Center with Send Me On Vacation. She is an amazing woman who cares for every patient in extraordinary ways," says Cathy Backus, Founder and President of SMOV.
"Colleen doesn't just look after patients, she cares for her employees as well. I still remember the moment when Colleen told me she had a few very special women she wanted to recommend for the program. Two nurses at St. Helena Hospital were battling breast cancer and still working to take care of dozens of patients. SMOV was able to award both women a dream vacation. Working with the nurses elevated the program to a new level for us. One nurse in particular, Colleen Tagnoli, told us her trip was a life-changing experience. Both Colleen and her husband had battled cancer at different times during their lives and the thought of going on a vacation was a distant dream. After learning that she and her husband never had a honeymoon, SMOV reached out to Trade Winds Yacht Charters, a proud sponsor of Send Me On Vacation. Trade Winds went above and beyond the expectation of providing the couple with a vacation of a lifetime by donating a private yacht charter for a week of glorious sailing throughout the Caribbean. Colleen and her husband have shared the memories of the trip with many and it's clear to see the sense of peace and joy it has brought into their lives."
Vacations like these and many more are possible because of wineries such as Hunter III, Charles Krug, Delectus, Annadel, Salvestrin, Redmond, Chase, Vino Vello, Cakebread, Peju, Michael Mondavi Estate Wines and more. Yearly events attended by local residents have been key in making SMOV an important part of the community. Inspired by volunteers like Victoria Acquistapace from Hunter III Wines, Alyshia Mondavi from Charles Krug and Lisa Redmond from Redmond Wines, the charity has taken fundraising to new heights.
This October 2, 2014, SMOV has partnered with the Napa Valley Wine Train to "Crush-Out the Effects of Cancer" with four winemaker dinners aboard the train. From 5:30 p.m. to 9:30 p.m., vintners will be pouring their unique wines to compliment specially prepared meals. The cost of the benefit dinner ranges from $159-$199 per person. Reservations can be made by calling the Napa Valley Wine Train at 707-253-0920 (extension 221) or by registering online at http://www.sendmeonvacation.org.
Tickets can be purchased to ride the train or a donation of $150 will send a breast cancer survivor on the ride of her life! Those who donate $2,500 or more will receive an 8-day/7-night stay at a five-star resort in Cabo San Lucas. Donations can be made at https://www.indiegogo.com/projects/get-on-the-train-breast-cancer-survivors.
###
JW Maxx Solutions is a proud sponsor of Send Me On Vacation and are the leaders in content management solutions, online reputation management and digital branding. Locally owned and operated in Phoenix, Arizona, JW Maxx Solutions has maintained an A rating with the BBB for over six years. JW Maxx Solutions is part of a fine family of businesses including Reputation Maxx, Enterate Ahora and Prensa Ahora with an international reach into Canada and Latin America as well as throughout the rest of the world. For more information about the services that JW Maxx Solutions provides, visit http://jwmaxxsolutions.com.