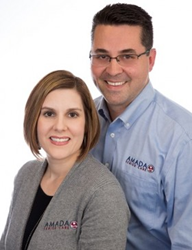 Here at Amada Senior Care, our clients are our family. We'll treat you like one of our own.
Frisco, Texas (PRWEB) September 30, 2015
Amada Senior Care, premier provider of in-home care and assisted living placement counseling, recently opened its newest office in Texas – its Denton/Frisco location. Amada franchise partner Sean McLeod came to the senior care industry with a background in business process design. His wife Andrianna has a background in accounting and consumer credit. Their grand opening will take place on Thursday, October 1st.
"At Amada in Denton and Frisco, we provide non-medical in-home care through caregivers that assist seniors with activities of daily living, allowing them to remain in their home as long as possible," Sean said. In the event that a senior is no longer able to age in place at home, Amada Denton-Frisco also offers placement advisory services; a form of counseling that helps individuals find the best assisted living environment for them. "We will help seniors and their families find the right options for any situation," Sean said.
According to Andrianna, they are also experts when it comes to understanding options seniors have for funding their care. "We can help seniors navigate financial options like long-term care insurance, life insurance policies, and veterans' benefits to help you pay for care," she said. "We want to help you find the best option to meet your needs."
Sean's mother was a caregiver, and both he and Andrianna have personal experience caring for an elderly loved one. "With what we've gone through, we really identify with those who are in similar situations," Sean said. "Here at Amada Senior Care, our clients are our family. We'll treat you like one of our own."
The grand opening of Amada Senior Care Denton-Frisco will be held on Thursday, October 1st. The office is currently looking for qualified full and part-time caregivers to work with their clients. For more information, you can visit their website at http://www.AmadaSeniorCare.com/DentonFrisco or call 469-906-2399.
About Amada Senior Care
Amada Senior Care is committed to enriching lives. We provide nurturing, compassionate non-medical in-home care and guide families through the many senior housing options available for assisted living. We also offer expertise in handling long-term care insurance claims and in certain forms of government aid, including Veterans Aid and Attendance Benefits. Headquartered in San Clemente, California, Amada was founded in 2007, and is currently assembling an elite team of franchise partners to expand our business on the national level. For more information, visit amadaseniorcare.com.