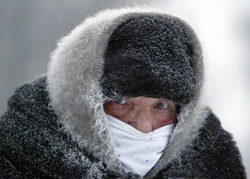 Winter can be a very tough time for the elderly, making sure that they take these necessary winter safety steps could help save their lives!
Naples, FL (PRWEB) November 27, 2013
For people with an elderly family member, it's important to note that winter is a risky time and there are a number of safety and security precautions that should be taken, to ensure seniors are living happily and healthfully. SecuritySystemReviews.com, a site providing reviews of top companies including Lifeshield home security systems, has created a list of safety and security tips for elderly people to follow through the cold winter months.
1. It's important for someone to always arrange to check in on elderly people, particularly when it's very cold outside. If family members are unable to do it on a regular basis, they should arrange for a friend or neighbor to stop by frequently.
2. Create an emergency supply kit with medications and other necessary items in case of a power outage or if the elderly person is unable to leave their home.
3. Arrange for someone to keep the elderly person's sidewalks shoveled and free of snow and ice. Falls are a big problem for the elderly, and this problem is only increased when it's snowy or icy outside.
4. Encourage elderly relatives to wear warm clothing constructed of natural fibers at all times, and keep thermostats at a comfortable level. It's also important that elderly people eat warm, healthy meals during the winter.
5. A wireless home security system is a good idea for elderly residents who live alone, because it can continue to function even during a power outage. Since carbon monoxide is a particularly big risk during the winter, contact your relative's home security system company to check into the addition of carbon monoxide monitoring if it's not already present.
6. Only use space heaters that are placed at least three feet away from curtains, furniture and anything else that can catch on fire.
7. Have the elderly person's chimneys inspected and cleaned each year before it's used, and have furnaces inspected and served to ensure they're safe and functioning properly.
8. Encourage elderly family members to always keep a full tank of gas, as well as an emergency kit in their vehicle.
9. Clean gutters regularly to prevent leaks from occurring within the senior's home.
10. Older people should have a fire extinguisher in their home. Statistics show that residents over the age of 65 are two times more likely to die in a home fire than people who are younger.
11. In homes where a fireplace is present, always use a screen to prevent sparks or logs from escaping and creating a fire hazard.
About SecuritySystemReviews.com
SecuritySystemReviews.com is the nation's leading third-party provider of information pertaining to home security systems. For residents throughout the country, whether they're seeking information about Louisiana security systems to Massachusetts security systems, Security System Reviews remains the most trusted source of unbiased and relevant information.