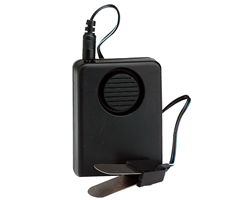 Emergencies can happen at a moments notice - therefore it's important that senior citizens practice a plan to keep them safe.
Columbus, Ohio (PRWEB) October 29, 2013
In recent years, with all of the high-profile weather events occurring across the country, more and more people are focusing on disaster and emergency planning in case they find themselves in an unexpected situation. One group that shouldn't be left out of planning are seniors—in fact, they are the most vulnerable during times of emergency. The home security team at SecuritySystemReviews.com, a site that provides reviews of the top companies throughout the country, including ADT reviews and reviews of FrontPoint security systems, has created a list of emergency planning tips, specifically targeted at seniors.
1. Seniors should ensure they have people who can provide support located around them—for example, friends, neighbors and family members that are located in a close enough proximity to provide assistance if its needed.
2. FEMA recommends that seniors always have an extra supply of necessary medication and supplies on-hand, at all times. It's a good idea for seniors to always refill medications before they run out, to ensure they have plenty in case they're not able to refill them for a period of time. Seniors should also have items like perishable foods, flashlights and extra batteries, bottled water and a storm radio. It's also recommended that seniors plans for the possibility that they will need to refrigerate certain medications.
3. It's a great idea for seniors to have copies of vital documents on-hand, in a waterproof container. For example, bank information, medications, medical instructions, doctor's names and Social Security number should all be kept in a safe and secure location, in case of an emergency.
4. The government advises seniors to receive electronic benefits payments, for things like pensions and Social Security. This way, even if a disaster prevents the mail from running, seniors will have access to money.
5. Wireless home security systems are a good thing for seniors to have in the event of an emergency, because they will often keep working, even if the power goes out. Seniors should keep extra batteries on-hand, and they may want to consider adding a medical monitoring system to their security system, which they can use to alert authorities they need help.
6. Seniors should always have a back-up plan. For example, have several people that can be counted on to help in the event of an emergency, in case one can't be reached.
It's always the hope that an emergency doesn't strike, but if it does, the best way to help seniors is to designate a viable plan to ensure they remain safe and secure until the situation is resolved.
About SecuritySystemReviews.com
SecuritySystemReviews.com is the leading third-party provider of information pertaining to the home security industry. The site reviews home security companies in every state in the country, so whether a consumer needs information on Virginia security systems, or is searching for information about Utah security systems, the site can help compare companies. In addition to reviews and rankings Security System Reviews also provides information, news and security tips, making it a one-stop shop for everything related to the security industry.