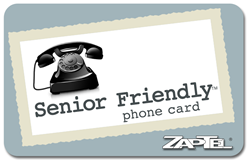 You have an excellent service, so far never have had any problems. Calls are always clear. I would recommend to all my associates. Thank you Lou H. - unsolicited, received July 2013
Chicago, IL (PRWEB) July 31, 2013
Today, ZapTel Corporation, the most trusted online source for international and domestic calling cards, introduces a new phone card called the "Senior Friendly."
"We often get calls from retirees asking us which phone card we recommend for simple, no nonsense calls to family and friends across the state or across the country," says Ron Reimann, ZapTel President. "To make the choice obvious, we designed a phone card just for them and called it the 'Senior Friendly' phone card."
Senior Friendly recognizes that by the time someone reaches their golden years, they appreciate things that just work right and are well designed and simple to use. With that in mind, Senior Friendly offers:

Flat 3.5 cents per minute rate for long distance calls in the United States. It doesn't matter if they are intrastate (in-state) or interstate (across state) calls.
No other fees, so the cost of a call is simple math - minutes times the rate (calls from pay phones incur a $1 charge which goes to pay the payphone provider)
Minutes never expire
The plan includes speed dial and pinless dialing. Set it up once, and regular calls require only a few buttons to press.
Friendly USA-based customer service for questions or help
Includes international rates for calls to all parts of the world, with no other fees except the rate per minute, which is determined by which country is called.
Home phone service choices continue to change. One popular option is to maintain land line service for the local calling area, and to have a phone that works even during a power outage. Then for long distance, instead of using a post paid plan from the phone company, a phone card is used for those calls. The benefit is there is no long distance expense unless a call is made, and rates are very low, so it makes economic sense.
The new ZapTel Senior Friendly calling card is one example of a phone card that fits this need well.
About ZapTel Corporation
ZapTel.com is leading online international phone card company, with US-based live customer service for ordering, and self-provisioning services on each customer's dashboard.
In business since 1999, ZapTel is mentioned by a leading consumer magazine as a good place to buy phone cards online, and is an INC 500 company.
ZapTel is a registered trademark and "Senior Friendly Phone Card" is a trademark of ZapTel Corporation.
###