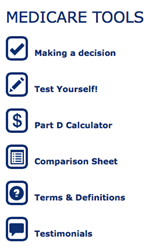 Our company's role is to educate our consumers on healthcare, give them choices and help them find the fit right for them. Our tools sections is designed to do just that, and much more!
Dallas,TX (PRWEB) June 17, 2014
The goal at 1-800-MEDIGAP is to provide customers with accurate, unbiased information to support their planning decisions. 1-800-MEDIGAP has created a list for seniors various needs to include of free interactive comparison tool such as:     
-Testing Knowledge on Medicare Options     
-Making a Decision Tool     
-Medicare Part D Calculator and     
-Medigap Plan Comparison Tool
Try our Medigap Help Tools :
Test Your Knowledge This is a great interactive tool that will allow seniors and their loved ones to test current knowledge about Medicare Supplements. Give the "TEST YOUR SELF" interactive tool a try and find our what score is generated. This tool will test understanding of things like deductibles, doughnut holes, 100 day rule, personal choice limits and several other important facts.
Making a Decision
It is important for customers to understand what options are available and the time frame in which to make those important decisions. Many Medicare customers find themselves unaware of timelines and suspenses, and how important these dates are. In some cases once a consumer is in a Medicare gap plan may have to wait a year to look for other options, in other cases they may not be able to get that benefit ever again.
Part D Calculator
It is also important for seniors to know about Medicare part D to understand what their out of pocket costs might be, in the event that they meet or exceed the first phase of prescription coverage. When that happens they fall into the doughnut hole that many Americans fall into each year. Medicare Part D is a very important part of the total out of pocket expense that people will be responsible for, and may be the deciding factor on who a consumer chooses to go with.
Plan Comparison Tool
1-800-MEDIGAP understands how overwhelming this process is, and has developed this interactive tool to allow consumers to add all the different options in one easy to use tool and print it out results. With over 160 Medicare supplement companies, and thousands of options, this tool will come in handy. Many of the advisors at 1-800-MEDIGAP use this tool to help their clients get a full understanding of their options. Use this the Plan Comparison Tool and print out the result for future use.
As the leader in the MEDIGAP space, it is the duty of 1-800-MEDIGAP to provide the market place with customer friendly tools to ensure consumers have quick access to them all in one convenient location. Many news sites that 1-800-MEDIGAP contributes to, and the partners they work with utilize these resources.
If you are a webmaster or professional, feel free to embed these tools to your site, to provide a higher level of customer service. An educated customer is the best consumer! View tools at 1-800-medigap.com or click here for a free quote today.