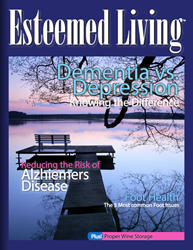 Esteemed Living, in partnership with 1-800-MEDIGAP recognizes their customers and are committed to being an influential source for today's Senior and tomorrow's as well.
(PRWEB) March 31, 2014
1-800-MEDIGAP is proud to announce that it has teamed up with Esteemed Living Magazine to provide a resource for seniors. Each month, Esteemed Living Magazine releases an online edition of the publication, containing the very best articles from that month's edition.
Jeff Cline, CEO of 1-800-MEDIGAP says, "We are proud to be working with Esteemed Living Magazine,an engaging, passionate, and responsible business entity like our own company. It's difficult to find resources and brands that only accept the highest standards as their guideline, and Esteemed Living is one of those brands."
The latest edition concentrates on health matters that relate to entering the golden age, and includes key topics such as: reducing the risk of Alzheimer's disease, tips on being a smart grocery shopper, the five most common food issues, and how to treat common foot pain.
According to Esteemed Living, nearly eight in ten adults experience some type of foot ailment at some point in their lives. In spite of this, more than 30 percent of foot pain sufferers never do anything about it. Although foot pain is a common problem, sufferers do not have to just live with it. The formula for healthy feet can be found in this month's edition of Esteemed Living.
Robin Ball, Managing Editor at Esteemed Living says, "The goal at Esteemed Living is to speak to the desires and demands of the ever-expanding senior community. The baby Boomer community is a vital part of American culture and Boomers are constantly shaping our daily lives. It is the focus of Esteemed Living to provide informative and inspiring content that will not only keep our audience engaged, but stir involvement and create a sense of community."
The Baby Boomer population is now starting to retire and more than 10,000 people are turning 65 every day. 1-800-MEDIGAP offers support to the senior community through resources like Esteemed Living in addition to making make the Medicare supplement insurance search less time consuming. Visit 1-800-MEDIGAP.com for more information on medical gap insurance.
Esteemed Living is ready to take senior living to a new level. Like the Esteemed Living Facebook page and follow on twitter for the latest from the team. Visit esteemedliving.com for daily blog topics and to see both current and past editions of the magazine.