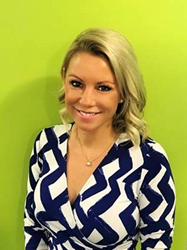 WASHINGTON (PRWEB) May 07, 2019
SeKON Enterprise, Inc. the premier management and technology consulting firm serving federal government health services is pleased to announce today that Senior Healthcare Executive, Tiphanie Forst has joined the company as Senior Vice President of Growth – Federal Health.
Tiphanie Forst is a seasoned executive with over 17 years of business development experience in the healthcare arena. Before joining SeKON Enterprise, Forst worked at Cerner Corporation as a Senior Healthcare Executive. During her tenure, she built Cerner's Federal health business, driving client adoption of Cerner's portfolio in the Federal Government sector. Throughout her career, Forst has held senior positions such as Vice President and Senior Director Business Development which makes her the ideal person for this role.
Tiphanie will be responsible for leading SeKON's Strategy and Business Development efforts with Federal Health agencies focusing on Department of Defense and Department of Veterans Affairs. In this role, she will be responsible for creating business opportunities, which include creating tactics that focus growth in SeKON's core capabilities, detecting new business opportunities and leading the organizational goal to expand market reach.
"Great things in business are never done by one person! Forst is an excellent addition to our remarkable business development team. She has the experience and understanding necessary to grow our business strategically, and the commitment required to develop excellent relationships in the healthcare arena", said CEO Dr. Angela Wilson.
About SeKON
Established in 1996 by Dr. Angela Wilson, SeKON Enterprise, Inc. is a privately held management and technology consultancy based in the Washington, DC Metropolitan Area. For more than 20 years, we have delivered our clients value by driving the efficiency of operations and applying emerging technology with innovative techniques while being accountable for providing excellence, transparency and ongoing collaborative communication. We have a proven record of helping our clients achieve their mission goals through dedicated support, partnering, thought leadership, value-added services, and quantifiable benefits by engaging the best resources available. We are committed to solving problems that matter, achieving mission goals, and making a measurable impact on organizations and the stakeholders they serve through the convergence of the right talent, tools, and processes.