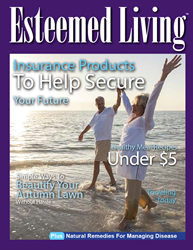 Informative, Inspiring and Entertaining and free to download, Esteemed Living Magazine covers all the topics that matter most the senior community.
Rockwall, TX (PRWEB) November 11, 2013
In today's economy it is important to have a sense of stability and security. Retirement years are certainly exciting, but can also seem intimidating. The November Edition has subject that directly relate to retirement security and much more. Be sure to check out the esteemedliving.com for both current and past editions available for free download.
Robin Ball says, "Our goal at Esteemed Living, is to speak to the desires and needs of the growing Boomer community. The baby boomer community is the most educated, healthiest, wealthiest and most vibrant consumers and because that audience is such a vital part of American culture it is our focus to meet their needs."
Esteemed Living is passionate about not only providing vital information, but inspiring readers to think about life in refreshing, more exciting ways. Ball also states, "Although the content targets seniors, it is widely relevant to all ages, as we all have similar concerns. I read every article word for word during the design phase because the subject matters related to me, a person in my late 20s, as well ." Even if you are not over the age of 50, we all know of someone who is be it a loved one or neighbor. Share this magazine with your loved ones and friends.
The November Edition Includes topics such as:
Insurance Products to Help Secure Your Future
Healthy Meal Recipes Under Five Dollars
Simple Ways to Beautify Your Autumn Lawn
Visit esteemedliving.com for daily blogs, to see current and past editions of the magazine. Over 10,000 people are turning 65 every day, the baby boomer population is now starting to retire and 1-800-MEDIGAP is here to offer support to the community through valuable resources like Esteemed Living in addition to making make the medicare supplement insurance search less time consuming.
Esteemed Living focuses on promoting active and healthy lifestyles in the baby boomer generation. If you are a company looking for advertisement opportunities, Esteemed Living has an audience of 100,000 seniors all over the nation. Contact Scott Seward at 1-800-733-7595.