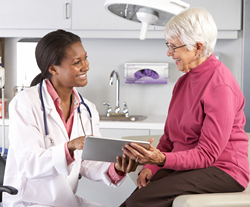 Even if you're comfortable with your current [Medicare] coverage, it's still a good idea to participate in open enrollment to ensure you don't miss out on new benefits or experience unexpected cost increases.
LARGO, Fla. (PRWEB) November 08, 2021
According to a 2021 government report, the median annual income for Americans 65 years of age or older in 2019 was $27,938.(1) For most Americans, health care accounts for one of the largest expenses in retirement. This year, in particular, increases in Medicare Part B premiums and out-of-pocket health care costs have left many Americans wondering whether or not they can afford adequate health insurance coverage for their needs. Dave Rich, CEO of Ensurem, a Florida-based insurance technology and product distribution firm, recommends seniors use the Medicare Annual Enrollment Period as a time to evaluate their health care coverage options.
"During the Medicare open enrollment period," says Rich, "we strongly advise seniors to reach out to a knowledgeable Medicare insurance agent—someone who understands all the available Medicare options—for help evaluating their needs and options."
By its very nature, says Rich, the health insurance situation for Americans over the age of 65 is complex and bewildering. For 2021, for example, there were a total of 3,550 Medicare Advantage plans available across the nation's service areas, giving the average enrollee 33 plans from which to choose.(2)
A good advisor, says Rich, will seek first to understand a person's health care needs and budgetary constraints, and will then take the time to educate them about plan options and possible upcoming changes. The annual Medicare open enrollment period, he says, which this year ends on December 7, is the right time to re-evaluate your coverage, make changes, or stay with current coverage.
"Plan costs and coverage can vary from year to year," notes Rich, "both for Original Medicare and for private offerings like Medicare Advantage and Medicare Supplement Insurance. Even if you're comfortable with your current coverage, it's still a good idea to participate in open enrollment to ensure you don't miss out on new benefits or experience unexpected cost increases."
It is possible, he says, that some seniors will require financial help to pay their insurance premium and associated out-of-pocket expenses. Sources of assistance include Medicaid, a joint federal/state program, state-level Medicare Savings Programs, and Programs of All-Inclusive Care for the Elderly (PACE) from Medicaid.(3) A qualified Medicare insurance agent understands these programs and how they work with the different private Medicare insurance plans.
Regardless of a senior's financial situation, says Rich, the agent's role is to keep costs down and to explain all the ramifications of any plan they discuss. To facilitate this process, he recommends that seniors have the following information ready for agents:

Target budget for monthly premiums
Primary physician's information
Prescription drugs taken regularly
Travel plans in and outside the U.S.
What is most important in this conversation, Rich notes, is two-way transparency. It's important that agents explain what exactly is included in a health insurance plan, and to make certain that the beneficiary is not paying for coverage that he or she does not need.
"The people best qualified to guide seniors through this thicket," says Rich, "are licensed Medicare insurance agents who are contracted with multiple top-rated insurance carriers I strongly encourage any senior—no matter what part of the country you live in—to seek out such an agent and make sure they give you all the answers you need."
About Ensurem:
Ensurem, headquartered in Largo, FL, is a leading technology and product distribution company serving carriers and consumers within the massive U.S. senior market. The company offers Medicare Advantage, Medicare Supplement, vision, dental, hospital indemnity and final expense insurance. It also provides end-to-end solutions for carriers, including product development, digital marketing and consumer-centric insurance technologies. For more information, please visit ensurem.com.
1. "Profile of Older Americans." ACL Administration for Community Living, acl.gov/aging-and-disability-in-america/data-and-research/profile-older-americans.
2. "Medicare Advantage (Part C) Private Health Plans." Medicareresources.org, 8 Oct. 2021, medicareresources.org/medicare-benefits/medicare-advantage/
3. "Get Help Paying Costs." Medicare, medicare.gov/your-medicare-costs/get-help-paying-costs.