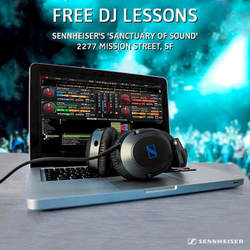 San Francisco (PRWEB) December 10, 2014
Audio specialist Sennheiser, which recently launched holiday Pop Up stores in New York and San Francisco, announced that it is hosting a series of informal DJ lessons this week and later this month at its San Francisco location. The DJ lessons, which are open to the public and available for free on a first come-first served basis, will be conducted by international DJ and Guitar Center Studios instructor Darren Holland.
Holland will teach the fundamentals of DJ-ing, covering basic elements such as understanding count, equipment and mixing. The lessons — which will occur on a walk-in basis every half hour — will include hands-on demonstrations using professional electronic turntables, MIDI controllers, vinyl decks and Sennheiser DJ headphones.
What: Walk-In DJ Lessons for Beginners
Where: The Sennheiser Pop Up Store, 2277 Mission St., San Francisco
When: Wednesday, December 10th; Thursday, December 11th and Saturday, December 13th between 5:00 p.m. and 8:00 p.m.
Additional dates in December: Thursday, December 18th and Saturday, December 27th between 5:00 p.m. and 8:00 p.m.
Darren Holland has been an independent music professional since 1995; as a DJ, he has produced and performed at many events in the U.S. and U.K., in addition to performing alongside the world's top underground music producers and DJs.
No reservation or appointments are required — simply drop by the Sennheiser Pop Up store during the scheduled times indicated above. For more information on Sennheiser's Pop Up stores, and to stay up to date with the latest activites, please visit http://en-us.sennheiser.com/soundsanctuary.
The Sennheiser Group based in Wedemark near Hanover, Germany, was founded in 1945 and has gone on to become a leading manufacturer of microphones, headphones and wireless transmission systems. Sales in 2013 totaled 590.4 million euros. Sennheiser employs more than 2,500 staff worldwide and operates plants in Germany, Ireland and the USA. The company has a worldwide network of subsidiaries in France, Great Britain, Belgium, the Netherlands, Switzerland and Liechtenstein, Germany, Denmark (Nordic), Russia, Hongkong, India, Singapore, Japan, China, Australia and New Zealand, Canada, Mexico, and the USA. It also has long-established trading partners in other countries. Georg Neumann GmbH, Berlin, a maker of studio microphones and monitor speakers, and Sennheiser Communications A/S, a joint venture making headsets for PCs, offices and call centers, are also part of the Sennheiser Group.
More up-to-date information about Sennheiser is available on the internet at http://www.sennheiser.com