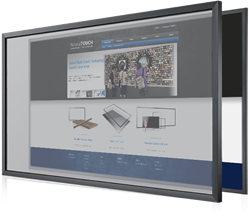 We not only meet the demands of our customers; we show them what they should be demanding from the Multi-Touch technology industry.
Hangzhou, China (PRWEB) September 03, 2013
Recently, SensaTouch introduced their new line of ST Pro Multi-Touch Overlays. These are the newest, most accurate, cost-effective solutions for easy integration into computer displays, digital signage, and larger format screens like multi-touch walls.
SensaTouch is the newest developer of innovative multi-touch hardware. Although the company is relatively new, the team at SensaTouch represents over 10 years of experience in the multi-touch industry. Their diverse technical backgrounds and experience include enterprise-level support and leadership with expertise in the use of cutting-edge hardware platforms. These skills will allow SensaTouch to grow and continue to provide the best industry products available. Watch the DEMO video to see how SensaTouch Multi-Touch Overlay will inspire future innovations.
SensaTouch hardware offers key improvements over existing products. The SensaTouch infrared overlay offers true multi-touch, thus enabling multiple users to manipulate content and collaborate through gestures utilizing up to 40 simultaneous touch points. These overlays are fully customizable in size, allowing for large format display and video walls up to 450''. The SensaTouch Sensor extends beyond the active display area for expanded interaction, preventing the problem of failed touch events at the periphery. Due to its sub-millisecond processing, zero-force sensing, and near-zero parallax, the SensaTouch overlays deliver instant, accurate touch recognition. This allows the interaction with the screen, whether drawing, navigating, organizing or gaming, to be fluid and responsive. SensaTouch offers the slimmest, solid aluminum and scratch resistant frame, with only 8mm thick and 19.5mm width, which can easily be integrated in any upscale commercial or exhibition environment. The SensaTouch Overlay is platform independent and supports all mainstream operating systems such as Windows 7 and 8, Mac OS X, Android, Linux and TUIO protocol (See Performance Test under Win7 Paint).
SensaTouch products are currently in use in more than 50 countries around the world in applications such as retail, exhibition, marketing, museum, public information, hospitality, research, education, art, design and other professional uses. SensaTouch currently has two production lines in order to exceed industry-standard lead times. "As a new company, it is a great achievement to be able to have amassed such a loyal following so quickly in such a competitive industry," says Mr. Cui, General Manager of SensaTouch. There has been an explosion of demand for touch screens, particularly within the business and retail world, which recognizes these devices as the best way to engage with their customers. SensaTouch not only meets this demand with its large range of touch overlays, but is actually helping to direct future innovation. According to Mr. Cui, "We not only meet the demands of our customers, we show them what they should be demanding from the Multi-Touch technology industry."
About SensaTouch
SensaTouch is an innovative hardware manufacturer of Infrared multi-touch panels (up to 40 Touch Point simultaneously) and touch-screen components for the electronics industry, ranging from 21.5'' to 450''. With accurate, cost-effective solutions designed for easy integration into Computer Displays, Digital Signage, and larger format screens like Multi-Touch Walls, SensaTouch develops the hardware necessary to bring multi-touch-screen technology to life. At SensaTouch, we are committed to building value for our customers, partners and employees. We hold ourselves accountable to the highest possible standards and ethics.
SensaTouch's mission is to be the most successful touch panel supplier in the markets it serves. We are dedicated to building long-term relationships with both customers and partners, and achieving excellence in everything we do.
For more information, please visit http://www.sensa-touch.com.