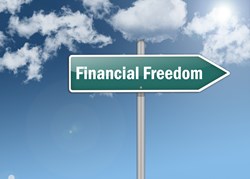 The Solo 401k plan can be one element in attaining financial freedom
Los Angeles,CA (PRWEB) August 13, 2013
Edward Synicky, Director of Business Development of Sense Financial Services LLC participated in a recent conference hosted by investCLUB for Women. The seminar conducted last month was entitled "Achieve Financial Freedom as an Investor" and featured Gary Johnston, top keynote speaker and financial investment expert. The conference took place at the Sportsmen's Lodge Oak Room in Studio City, California. The highly attended event was considered a success.
Mr. Synicky, who is himself a lecturer about the popular and lucrative Solo 401k plan and Real Estate IRA, was able to share his expertise on how to utilize the plan in 401k investment in real estate. He was also able to speak on the advantages of the plan, such as the ability to enjoy tax-deferred or tax-free investment using retirement funds.
investCLUB for Women hosted this event as part of their ever-growing mission and commitment to grow financially in the real estate industry. The club was established in 2007 with the sole mission of creating and supporting financially independent women by means of real estate investment. In the six years since its inception, the club is now composed of over 200 annual club members with networks expanding in Los Angeles and Orange County. The host club has garnered recognition for its quality education and engaging business support. The "Achieve Financial Freedom as an Investor" seminar was another way of teaching members and non-members on how to build lasting wealth through investment tools and strategies such as roth ira real estate retirement plans.
Gary Johnston taught on the ways to increase cash flow and guarantee wealth in the future within the real estate industry. The conference covered many relevant topics and was an informative and worthwhile event.
About Sense Financial Services:
Sense Financial is California's leading provider of retirement accounts with "Checkbook Control": the Solo 401k and the Checkbook IRA. Over the years, they have assisted hundreds of clients obtain checkbook control over their retirement accounts while providing them with the ability to invest in virtually any investment class, including real estate, private lending, mortgage notes and much more without the need for custodian approval.
To learn more about the solutions they provide, please contact: (949) 228-9393.