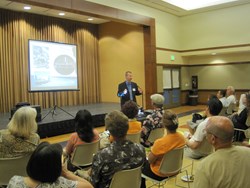 Invest and build wealth building through surefire and lucrative financial investment options such as individual 401k plans.
Pismo Beach, CA (PRWEB) August 14, 2013
Last month, "The Ultimate Retirement Plan" conference was successfully held at Spyglass Inn Restaurant in Pismo Beach, CA. The one-day event featured the President of Sense Financial Services, the leading provider of 401k plans for the self-employed and small business owner. "The Ultimate Retirement Plan" seminar included information on the plans as well as their advantages for real estate investing.
The host of the event was Central Coast REIA, one of the top notch and highly respected investors clubs in the real estate industry. The conference was centered on the numerous benefits and perks of investing in the real estate arena through the use of 401k plans, such as the Solo 401k plan from Sense Financial. This financial investment and retirement account is highly recommended because of its checkbook control features. It allows account holders to use their retirement money or funds to invest in unlimited options, from real estate to foreign currency. Based on feedback from satisfied plan owners, the retirement plan allows easy investment because there is no need to obtain custodian consent for its transactions.
The successful event opened many opportunities for learning and networking. There were various topics discussed and tackled during the seminar including Solo 401k basics. The President of Sense Financial emphasized the importance and fruits of financial freedom through planning and financial investment. He also discussed the tips and techniques for getting rid of taxes on investment gains and how to stop paying credit card interest. Conference participants also learned how to set up their own private banks using Individual 401k plans.
About Sense Financial Services:
Sense Financial is California's leading provider of retirement accounts with "Checkbook Control": the Solo 401k and the Checkbook IRA. Over the years, they have assisted hundreds of clients obtain checkbook control over their retirement accounts while providing them with the ability to invest in virtually any investment class, including real estate, private lending, mortgage notes and much more without the need for custodian approval.
To learn more about the solutions they provide, please contact: (949) 228-9393.