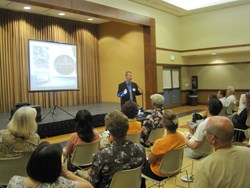 Sense Financial Services has a passion for assisting individuals and families.
Los Angeles, CA (PRWEB) August 22, 2013
According to financial and industry experts, popular keynote speaker and financial investment expert Dmitriy Fomichenko is a mainstay in today's financial seminars and conferences. Mr. Fomichenko is the founder and president of California's leading provider of self-employed retirement plans, Sense Financial LLC. His background is in financial planning and real estate investing. His company offers both Individual 401k retirement accounts and Checkbook IRAs. Sense Financial's Individual 401k is considered one of the best 401 k plans and is one of the most popular choices for self-employed and small business owners. One of the most popular features of the plan is its ability to be invested in almost unlimited opportunities with tax-deferred and tax-free privileges.
Based on reports and feedback from retirement plan holders, the Individual 401k (also known as the Solo 401k) plan is a financial solution with a myriad of advantages. Experts and account holders attest to the opportunities offered by the plan for financial growth, particularly in giving investors the ability to use their funds without custodian consent. Account holders have the ability to invest their money with the ease of writing a check, otherwise known as "checkbook control."
Mr. Fomichenko has received many positive reviews from his speaking engagements. Many have noted his passion for assisting individuals and their families to achieve and enjoy financial freedom. In recent months, the Checkbook IRA investment expert has been featured at conferences and seminars in various states and places offering his expertise and mentorship in real estate investing. He is a highly recommended speaker and expert in self-employed 401k plans and buying real estate in IRA.
Recent speaking engagements include collaboration with renowned and established financial organizations, clubs and television shows. He was recently featured at the San Diego Investment Club, Orange County Investment Club, 21st Century Business TV Show, Black Belt Investors Network and Invest Club for Women.
About Sense Financial Services:
Sense Financial is California's leading provider of retirement accounts with "Checkbook Control": the Solo 401k and the Checkbook IRA. Over the years, they have assisted hundreds of clients obtain checkbook control over their retirement accounts while providing them with the ability to invest in virtually any investment class, including real estate, private lending, mortgage notes and much more without the need for custodian approval.
To learn more about the solutions they provide, please contact: (949) 228-9393.