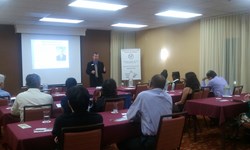 Attendees were given essential information on creating and building true wealth in the lucrative real estate industry.
Costa Mesa, CA (PRWEB) August 20, 2013
Sense Financial LLC, the seminar facilitator and sponsor for the Wealth Building Weekend boot camp, declared their 2-day financial conference an enormous success. The weekend seminar took place last July 20-21, 2013 at the Costa Mesa County Club in Costa Mesa, CA. Real estate investors and account holders of the Checkbook IRA participated in the said event. Sense Financial experts dubbed the recently concluded activity as the ultimate real estate program for all investors and real estate key players.
For two days, the seminar and boot camp participants and attendees were given essential and enriching information about creating and building true wealth in the lucrative real estate industry. Topics included Solo 401k rules and how retirement plan holders could use their Solo 401k funds to invest in real estate and other viable investment fields. Feedback from the event revealed that attendees gained a clearer understanding about the Checkbook IRA and the advantages of having Individual 401k accounts for investment. Attendees were also provided information about setting up an Individual, or Solo, 401k to enjoying their investment growth with tax-deferred and tax-free features.
According to participants and the Sense Financial event coordinators, the 2-day Boot Camp included additional information that was helpful. Investors and participants were given input as to the right market to invest their retirement funds, the basics of property management, protecting their assets and financial strategies such as using Checkbook IRAs for real estate investing.
Based on the concluded itinerary and list of activities, the attendees received mentorship from top Sense Financial investors and keynote speakers. Experts offered tips and techniques for using Checkbook IRAs and 401k plans for . Additional activities during the event made it a unique and productive weekend for participants seeking to boost their investment and wealth.
Account holders and real estate players were also taught the strategy for investing in real estate, particularly the "buy and hold" approach. They also learned the criteria setting for investment, today's financial market, homeowners insurance and tax strategies to help real estate investors. The event was productive and informative, according to both attendees and Sense Financial.
About Sense Financial Services:
Sense Financial is California's leading provider of retirement accounts with "Checkbook Control": the Solo 401k and the Checkbook IRA. Over the years, they have assisted hundreds of clients obtain checkbook control over their retirement accounts while providing them with the ability to invest in virtually any investment class, including real estate, private lending, mortgage notes and much more without the need for custodian approval.
To learn more about the solutions they provide, please contact: (949) 228-9393.