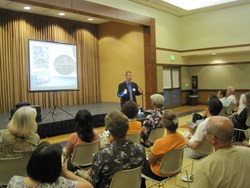 A financial investment tool that aims to help retirement investors secure and increase their funds through holding their very own physical gold.
Monsey, NY (PRWEB) July 13, 2013
The Gold 401k applied with Checkbook Control is one of the financial investment tools aiming to help retirement investors secure and increase their funds through holding their very own physical gold. There are other coins offered in this investment fund including platinum and silver. Retirement investors are given innumerable options to start up their investment ventures through purchasing the gold, silver or platinum coins from the licensed dealer of their choice. The investment provides simple regulations such as simple check-writing in place of the heaps of forms and custodial transaction fees.
The eligibility to invest on Gold 401k is quite encompassing and lenient for retirement account holders. This investment and retirement plan specializes specifically for self-employed individuals. In essence, the plan is an application of the Solo 401k plan self-directed with Checkbook Control. One of the upsides of the retirement plan is the ease of rolling over their current retirement funds to the Gold 401k plan. The lucrative part seen by most analysts and investors is that there are no penalties or early distribution taxes when they go for this particular option.
Retirement investors who wish to venture into the Gold 401k retirement plan must first qualify under the self-employed category. They are required to file their 1099 form and must not have any employees working full-time under their pay roll. Retirement investors who retain their non-self-employed status however could still qualify for this plan as long as they do not have full-time employees and their income rate is still filed as 1099. For investors who are not receiving self-employed incomes, venturing into the Gold 401k plan is still highly possible. They could easily open a Broad Financial Gold IRA account to qualify for this type of retirement investment plan.
The Gold 401k plan allows investors to purchase gold from any dealer of their choice. For specific gold products, investors could choose between bullion and coins. For coin products, the acceptable ones include Canadian Maple Leafs, American Eagles and Australian Nuggets. The initial step to take is to sign up and open a Gold 401k plan that will enable investors to make their investment decisions and invest on practically all types of assets including gold, silver and platinum.
About Sense Financial Services:
Sense Financial is California's leading provider of retirement accounts with "Checkbook Control": the Solo 401k and the Checkbook IRA. Over the years, they have assisted hundreds of clients obtain checkbook control over their retirement accounts while providing them with the ability to invest in virtually any investment class, including real estate, private lending, mortgage notes and much more without the need for custodian approval.
To learn more about the solutions they provide, please contact: (949) 228-9393.