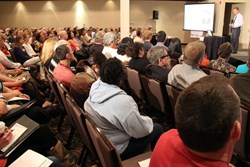 The Individual 401 k plan allows almost unlimited investment capability.
Los Angeles, CA (PRWEB) September 05, 2013
Renowned California real estate club, Black Belt Investors, proudly announced the success of its Real Estate Club 12 Rounds Meeting. The two-part conference was held last month in Norco, CA. The event featured various aspects of real estate investing and Individual 401k plans, the retirement plan that enables participants to invest retirement funds in non-traditional assets, such as real estate. This plan has been growing in popularity in part because of this feature and is considered one of the best 401k plans for individuals. The highly-attended event featured the president of Sense Financial Services as its keynote speaker. Sense Financial Services is California's leading provider of self-directed retirement accounts with checkbook control.
According to conference reports, the informative event was aimed at helping real estate investors financially secure their future. The conference featured successful techniques and strategies to ensure real estate investing, such as Individual 401k plans. The plan is a traditional 401k which has been simplified for the self-employed and small business owner. Because of its structure, the plan enables participants additional advantages, such as the ability to invest in both traditional and non-traditional assets. Information about the Individual 401k plan (also known as a Solo 401k) also included a comparison between the SEP vs. Solo 401k.
Black Belt Investors is an established and renowned club in the real estate industry founded by master strategist Sensei Gilliland. The 12 Rounds conference was created to not only shed light on real estate investing, but also to learn and understand more about the Solo 401k account to fund investments. Gilliland has created a reputable and solid career in the real estate. He obtained his wealth in the industry through rental properties and wholesale investment and is now continuing his efforts to educate real estate investors through personal training, seminars and club meetings.
The 12 Rounds conference in August was considered a success by both event hosts and attendees. The informative and educational event helped many to learn of the strategies and tools available for real estate investing.
About Sense Financial Services:
Sense Financial is California's leading provider of retirement accounts with "Checkbook Control": the Solo 401k and the Checkbook IRA. Over the years, they have assisted hundreds of clients obtain checkbook control over their retirement accounts while providing them with the ability to invest in virtually any investment class, including real estate, private lending, mortgage notes and much more without the need for custodian approval.
To learn more about the solutions they provide, please contact (949) 228-9393.