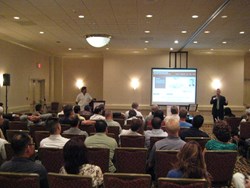 Plans like the Individual k are advantageous for real estate investing.
Los Angeles, CA (PRWEB) September 11, 2013
Sense Financial LLC, renowned provider and administrator of Individual k retirement accounts, is proud to announce the success of its last two real estate investing conferences. The 2013 4 Real Estate Profit Centers and Ultimate Retirement Plan conference and the Infinite Returns Curriculum for Real Estate Investing were held last month in Ontario, CA and Yorba Linda, CA respectively. Both events were highly attended and designed for real estate investors.
According to sources from the company, the Ultimate Retirement Plan and 4 Real Estate Profit Centers 2013 Seminar focused on equipping real estate investors to "buy big without shelling out big" in real estate. Attendees also heard in-depth information about Individual k or Solo 401k retirement plans. These retirement accounts for self employed allow participants to invest in real estate as well as other non-traditional assets. The informative conference was held at the conference room of CREA Realty Group.
4 Real Estate Profit Centers 2013 also explained the long-term strategies to guarantee retirement through strategies such as real estate rentals, seller financing, lease options, and rehabbing. Sensei Gilliland, master strategist and real estate entrepreneur was the keynote speaker of the event.
The second event hosted by Sense Financial Services was entitled Infinite Returns Curriculum for Real Estate Investing. Crystal Han, prominent investor and marketing consultant, conducted the conference that took place at the corporate offices of Sense Financial at Yorba Linda, CA. Salient information about the Individual k retirement accounts included a segment on "What is a Solo 401k" as well as other essential points to know about the current real estate industry.
About Sense Financial Services:
Sense Financial is California's leading provider of retirement accounts with "Checkbook Control": the Solo 401k and the Checkbook IRA. Over the years, they have assisted hundreds of clients obtain checkbook control over their retirement accounts while providing them with the ability to invest in virtually any investment class, including real estate, private lending, mortgage notes and much more without the need for custodian approval.
To learn more about the solutions they provide, please contact: (949) 228-9393.