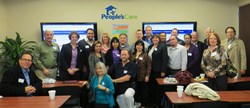 The Open Self-Directed IRA is a new solution that offers tax-free real estate investing
Yorba Linda, CA (PRWEB) August 15, 2013
The Open Self-Directed IRA Qualified Retirement Plan is the newly-introduced retirement account at Sense Financial Services LLC. The leading provider of self-employed retirement plans such as the Roth Solo 401k is announcing one of the best self-directed retirement accounts for real estate investment. This is a qualified retirement plan that allows plan owners to exercise checkbook control over their funds. This key feature allows account owners to make investments through the simple act of writing a check. The Open Self-Directed IRA is a specially-designed type of retirement account which allows a wide range of investments. The plan also features tax benefits, including tax-free real estate investing.
This new solution from Sense Financial enables retired investors to avoid using their personal funds in real estate investments. This can be quite costly as the investments become subject to higher capital gains and income tax rates. On the other hand, the Open Self-Directed IRA qualified retirement plan provides available funds for real estate investments while providing tax benefits. There is no upfront tax on the invested property until later, when the distribution is already taken. The Open Self-Directed IRA plan provides uninterrupted and tax-free investment growth.
According to legal representatives of Sense Financial, the new Open Self-Directed IRA qualified retirement plan is duly permitted and approved by the IRS. The self-directed retirement account allows investments in the real estate field in order to generate profits and income with tax-deferred features. More and more retired investors are seeing the tax efficiency and benefits of qualified plans such as the Solo 401k and the Open Self-Directed IRA plans. Many see how these retirement accounts can increase income and revenue while providing tax benefits.
About Sense Financial Services:
Sense Financial is California's leading provider of retirement accounts with "Checkbook Control": the Solo 401k and the Checkbook IRA. Over the years, they have assisted hundreds of clients obtain checkbook control over their retirement accounts while providing them with the ability to invest in virtually any investment class, including real estate, private lending, mortgage notes and much more without the need for custodian approval.
To learn more about the solutions they provide, please contact: (949) 228-9393.