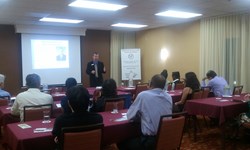 The successful event featured a comprehensive discussion of the real estate arena
Yorba Linda, CA (PRWEB) (PRWEB) August 07, 2013
Sense Financial Services LLC is delighted to announce the recent success of its hosted seminar on Family Wealth centered on preservation and investment in the real estate industry. The self-employed 401 k plan provider launched the seminar on July 9, 2013 at the company's office in Yorba Linda, CA. The event was attended by many investors, landlords, and agents in the real estate industry. Steve Dexter was the key speaker of the seminar. Dexter is the well-known publisher, author and expert on foreclosure and the real estate arena.
There were several salient points covered during the seminar as well as various real estate topics. Attendees were given insights about Solo 401k advantages. The Individual 401 k, also known as the Solo 401k, offers participants checkbook control over their retirement savings and almost unlimited investment options. Event attendees were given answers to their inquiries about the vast real estate industry and questions such as what is a 401k account. The one-day event featured a comprehensive discussion of the real estate arena. It also gave practical help on how to build family wealth through preservation and investment. Sense Financial hosted then event and presented the self-employed 401 k plan. Some of the features of the plan include its ability to use retirement funds for unlimited investments, tax benefits, and its checkbook control.
The successful event was attended by a wide audience, many who wanted to learn how to enhance family wealth through real estate investment. During the event, attendees learned about methods such as Solo 401k loan options. The plan allows participants to borrow from the retirement account for any purpose. There were also significant real estate issues discussed, such as resolving inheritance disputes and passing family wealth in the real estate business and investment without paying off expensive gift taxes. The successful event provided information and enrichment for those who wanted to see their retirement funds grow in real estate.
About Sense Financial Services:
Sense Financial is California's leading provider of retirement accounts with "Checkbook Control": the Solo 401k and the Checkbook IRA. Over the years, they have assisted hundreds of clients obtain checkbook control over their retirement accounts while providing them with the ability to invest in virtually any investment class, including real estate, private lending, mortgage notes and much more without the need for custodian approval.
To learn more about the solutions they provide, please contact: (949) 228-9393.